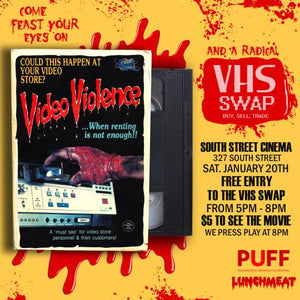 Saturday, Jan 20th PUFF and LUNCHMEAT Proudly Present a VHS Screening of VIDEO VIOLENCE and a Totally Radical VHS Swap at SOUTH STREET CINEMA in Philadelphia!
Heads up, Videovores! On Saturday, January 20th at South Street Cinema located at 327 South St in Philadelphia, PA, LUNCHMEAT is teaming with the VHS-appreciating minds at THE PHILADELPHIA UNNAMED FILM FESTIVAL (PUFF) and our friends at CAMP MOTION PICTURES to bring you a one-night VHSpectacular featuring a VHS screening of Gary Cohen's blood-soaked, seminal slab of shot-on-video horror VIDEO VIOLENCE! PLUS! A most radical VHS swap before the screening featuring a small army of VHS vendors slingin' all walks of weird, wild, and totally ridiculous home videos, dude!
The VHS swap kicks off at 5PM and entry is FREE! Yeah, FREE! From 5PM – 8PM, there'll be a whirlwind of rewind-inclined minds buzzing about South Street Cinema to root through fat stacks of radical slabs and take home their new favorite analog gem! Tables are already filled up, but we encourage every attendee to bring small stack in a backpack or tote, so you can trade those tapes, man!
Share this bad boy around, Tapeheads, and hope to VHSee you there!
Once 8PM hits, we're asking for just $5 for every Tapehead that wants to stick around and experience the shot-on-video insanity that is VIDEO VIOLENCE, complete with special VHSurprises and some groovy snacks! Munchies! You know it! Groove to the Official Event Page for this radical rewind-minded night brought to you by PUFF, LUNCHMEAT and CAMP MOTION PICTURES, and let us know you're gonna make it! Bring your friends, too! This will RULE.
Groove and Groove and Once a Lifer, Always a Lifer.
Josh Schafer
---