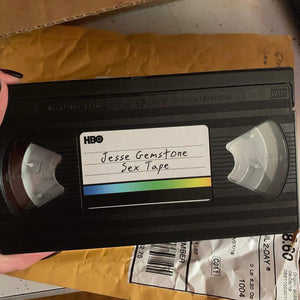 HBO Employs a Faux Sex Tape on VHS Showing Some Marketing Genius for their New Show THE RIGHTEOUS GEMSTONES!
About a month ago I received a message asking if I would be interested in receiving some promo materials for Danny McBride's new HBO show The Righteous Gemstones. Being a fan of the two shows he and the Rough House boys did previously, Eastbound & Down and Vice Principals, I did not hesitate in accepting the offer. Besides, who doesn't like getting free shit? I thought about it briefly, figuring they'd send me a screener or link, maybe some stickers and postcards. You know: The usual promotional items. Then , I totally forgot about it. Cut to last week. Per usual when I arrived home from work I went through my mail. Without really looking at the padded envelope I tore it open. Right away I see it's a VHS tape with a handwritten label on the side. But what's written on it fills me with 80 percent panic and if I'm being honest, 20 percent excitement: "Jesse Gemstone Sex Tape".
Could this be the most ridiculous "Blackmail Day" of all?! Quite the VHSurprise, either way!
My mind races. "Christ. Jesse...Jesse? Do I "know" a Jesse? And who the hell sends a VHS tape for blackmail purposes or otherwise in 2019?" Then I see the note and relief instantly washes over me followed by several seconds of solid laughter. It's instructions. To a link where I can watch The Righteous Gemstones. Like their previous two shows, there is no shortage of wild hijinks and fun, raunchy behavior. Beyond the surface level though there's also a theme running throughout of old ways vs. new. Young vs. Old. Traditional vs. modern (you get the picture).
The full frontal of the faux Jesse Gemstone VHSex Tape! Brilliant, HBO. Lunchmeat VHSalutes you!
Using someone's secret sexual escapades to blackmail them is nothing new. We've just found new ways of doing it. You could even argue it's easier than ever to do. Oh, and without spoiling too much, there is also a major plot point on the show that involves extortion and a sex video. On modern formats of course. So it feels very fitting that a literal sex tape was used to promote the show. I gotta say, in the few years I've been receiving screeners and promo materials for film and television this is by far the most genius one yet. 
Groove and Groove and Do It on VHS.
Thashana McQuiston
---