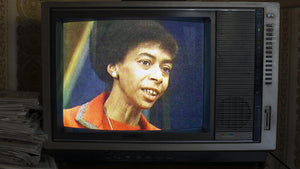 RECORDER: THE MARION STOKES PROJECT Details the Story of How One Woman Videotaped TV 24/7 for 30 Years, In Search of Truth. [WATCH] Stream or Tune In via INDEPENDENT LENS / PBS!
Tonight, June 15th 2020 at 10PM marks the online premiere of what is likely the most fascinating and historically significant document of videotape culture ever recorded. Sound bold? Consider this: In 1979, alarmed by the amount of misinformation that television was consistently spewing forth, a Philadelphia-based activist named Marion Stokes began taping TV news programs 24 hours a day, and did so for over 30 years. At her passing in 2012, Stokes' massive collection totaled to over 70,000 tapes, capturing everything from catastrophes to commercials, resulting in a videotaped time capsule of what television looked and sounded like for over three decades. Stokes' collection is now housed by Internet Archive, who has plans to digitize all of the material and make it free to the public. You can read more about that HERE. Premiering theatrically in November of 2019 to much critical acclaim and released on disc via Kino Lorber, RECORDER: THE MARION STOKES PROJECT is available to stream tonight (6/15/2020) at 10PM via Independent Lens // PBS, and will presumably be available to view on the PBS platform moving forward.
A television vision of Marion Stokes: the woman who recorded TV 24 hours a day for 30+ years.
The significance of these recordings cannot be overstated, Tapeheads. The entire project considered at once is intoxicating and overwhelming. The fantastic scope of culture and events captured in this collection is absolutely astonishing. However, RECORDER is also an intriguing portrait of a complicated yet visionary woman with an enduring passion for truth who used home video recording as a form of activism. Without Stokes' obsessive and fervent efforts, the transient nature of television broadcasts would have wiped away these stories, images, and valuable history. Now, through the power of her archive, we can see into the past just as it was projected from TV screens in living rooms across the country. And that's pretty groovy, man. Here is the official trailer for RECORDER: THE MARION STOKES PROJECT from Zeitgeist Films:
You can watch RECORDER via Independent Lens // PBS, and learn more about this fantastic account of home video history by clicking HERE.
Groove and Groove and Never Trust the Boob Tube.
Josh Schafer
---