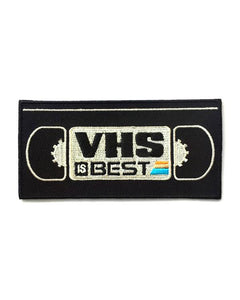 Radical Rewind Flair Alert: The VHS IS BEST Embroidered Patch from Strange Ways!
If you're looking to soup up your Videovore style and display some absolute truth on your video vest or tape bag, the mighty fine rewind-inclined folks over at Strange Ways have recently offered up this most bodacious VHS IS BEST patch! An original and exclusive item from Strange Ways, this embroidered twill patch comes with an iron-on backing and measures approximately 4 X 2 inches. It's only available via the Strange Ways shop, and will cost you just about 6 bones plus shipping. Here's a look!
Ain't it the truth, Tapeheads?! This patch rules.
And if you're looking to expand your VHS-lovin' flair even further, be sure to groove to the LM store and peep the Limited Edition Rewind or Die enamel pins, man. The detail on this design totally slays, quantity is runnin' low, and hey, a little VHShameless self-promotion never hurt anyone, man. DIG 'EM!
Groove and Groove and It's Casual.
Josh Schafer
---