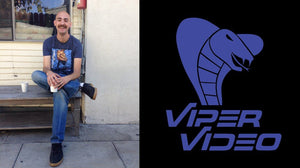 VIPER VIDEO Brings Vintage Punk Rock Live Performances to Limited Edition VHS with PUNK OF THE POPS '79!
Using a special kind of analog alchemy, Viper Video aims to capture the raw spirit of live punk. This little label has been on a relentless mission over the past few years, releasing a total of 26 tapes to date. The label is run by Adam Papagan, who observant Videovores might remember from the last time we caught up with him on this VHS-obsessed slice of internet, but if you're new to Viper's video output, the thing to know about Papagan is that he is just as passionate about analog video as he is about punk rock, and he has a real flair for the type of DIY design aesthetic that reeks of the early 80s and makes you feel all warm and fuzzy inside.
Viper Video main brain Adam Papagan sittin' pretty alongside Viper Video logo! VHSSSSsssSSSs. Yes, I did it again.
Viper Video's latest release, Punk of the Pops '79, is something of a departure from the label's tried and true formula. Rather than showcasing a recent performance from an underground or cult band, Punk of the Pops is a collection of live performances from the BBC's music chart show, Top of the Pops. 1979 was a tumultuous time for punk; the magic of '77 had worn off and the new wave movement was rising up. Many acts suddenly found themselves flirting with mainstream stardom; some succeeded, but others came crashing back down to earth.
The front cover for PUNK OF THE POPS from Viper Video. Stone cold slab o' punk rock gold.
This collection promises to capture that unique moment in time, with performances by now legendary acts like Motorhead, Siouxsie and the Banshees, and The Damned, as well as eventual pop super-stars like Elvis Costello and Kate Bush.
The back of the PUNK OF THE POPS slab from Viper, revealing the radical track list. Dig the double dose of The Damned.
Imagine this: you're a 12 year old kid in the UK. It's the late 70s and there's nothing to do in your sleepy British suburb. You turn on the BBC because it's Thursday night, and seriously… what else are you going to do? Then, Motorhead launches into the opening riff of "Bomber." You stare at the TV set, your jaw planted on your parents shag carpet. You can't look away, because your life has changed forever. I'm not sure anything could truly replicate that momentous experience, but this tape is just about as close as you can get, Tapeheads! Now you best go grab this slab because it's 50 copies and gone, Videovores! And for just 10 bones, you're gonna have a hard time saying no. The power of Lemmy compels you! Oh, and on a VHSide note, if you're a fan of the O.J. Simpson trial / scandal, check out Adam's other project involving an the expansion of his current O. J. Tour. Don't squeeze the juice, dude!
Groove and Groove and Neat Neat Neat.
Ted Gilbert / Josh Schafer
---