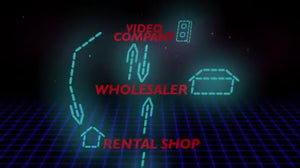 EXCLUSIVE CLIP From PLASTIC MOVIES REWOUND: The Comprehensive Home Video Industry Documentary from Director / Producer Mike Malloy!
The more in-the-know VHS aficionados are likely to be familiar with the name Mike Malloy. Apart from his outstanding work on the documentary Eurocrime: The Italian Cop and Gangster Films That Ruled the 70s, and his participation in flicks like Samurai Cop 2 and Django Lives, he's also been making appearances here in Lunchmeat Land since 2013 when he first started the journey to create Plastic Movies Rewound: an episodic documentary that details the sometimes seedy, sometimes incredible, but always entertaining hidden world of the home video industry. Now over the years we've seen a flood of VHS-driven documentaries that explore the many facets of the VHS world, from the collector-focused Adjust Your Tracking to Josh Johnson's collective vision of the video era with Rewind This! to the recently released VHS Revolution from director Dimitri Kourtchine which details the overall effect of home video on the world as we know it.
A groovy little flow chart showing the transit of tapes. Intrigued? We thought you might be. Check out the video below for all the info!
But with Malloy's Plastic Movies Rewound, we're to be given a backstage pass to the inner-workings of the home video boom, from the often slapdash, head-scratching, and questionable process of creating VHS cover art (with insight on the artwork for VHS collector favorite Demon Queen), to the origins of tape trading (on Beta!) to the various personality types that thrived within the video store circuit. It's all that, and much, much more, Tapeheads. Malloy's Plastic Movies Rewound is to consist of 6 episodes, each running just a little under an hour each. Details on the official release of the full series are still forthcoming, but we're absolutely stoked to offer up an exclusive chunk from episode 3 of PMR "The Golden Age of the Mom and Pop Video Store", which gives insight on just how all those wonderful slabs of analog actually made it to video store shelves. Check it out just below:
And if that got your attention, be sure to check out the other clips that are currently circulating on sites like Cinapse, Geeks of Doom, Schlockmania, and Daily Grindhouse. These tidbits are just a taste of what Plastic Movies Rewound is gearing up to unleash, and something tells us that once this doc hits in full force, we'll never be able to look at the video era in quite the same way again. And that's pretty groovy, man. You can stay updated on all things Plastic Movies Rewound via their Official Facebook page. Click that link and smash the like button. You'll be glad ya did.
Groove and Groove and Do You Want Fries With That?
Josh Schafer
---