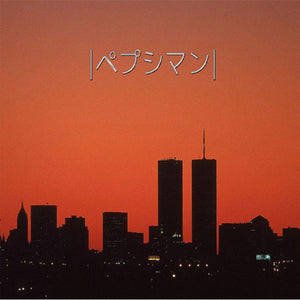 Vaporwave Artist PEPSIMAN Offers Latest Album on Fresh VHS! Click for Full Details on the Release and Exclusive Interview!
The fresh VHS movement isn't just for indie film efforts and radical cult cinema re-animations anymore, Tapeheads! Analog-inclined aural-driven outfit Lighten Up Sounds and the spiritually psychedelic music video release of IASOS from Astro Nautico are exemplary when it comes to committing fringe music to limited edition videocassette. Even us Videovores here Lunchmeat Land have endeavored to serve up music-driven magnetic magic from Sweden's VIDEOGRAM and new wave nihilists TUFF TURF. And now, an artist known as Pepsiman (styled as lペプシマンl) is ready to present a piece of the burgeoning vaporwave world on Limited Edition VHS with his newest album 9/11. The first run of videocassettes for this release quickly sold out, but fear not 'cause these slabs are already back, stacked and all set to roll into your VCR. Read on, my fellow Tapeheads, and take a ride with Pepsiman on some rewind-inclined vaporwave vibes…
Album art for the newest PEPSIMAN album, available on VHS RIGHT HERE, dude.
Can you tell us a little about the origin of lペプシマンl and how the project progressed? lペプシマンl was originally created as a joke in 2014 to make albums based around Vaporwave aesthetics and random jokes that my friend and I used to make about Digiorno's pizza. At the same time we were both really into this YouTube personality Parkourdude91 whose entire channel was based around video games, weed, parkour, airsoft guns, wolves, the marines, and John Cena. It is as terrible as it sounds. In I believe November of that year Parkourdude91 discovered Vaporwave and was using Macintosh Plus tracks actively on his livestreams, so I decided to make a Vaporwave album for the Commander as a way to highlight some of the most hilarious moments through his videos, as well as a thank you of sort for the content. It ended up being a 29 track album, mostly just consisting of voice clips from his videos, badly sampled rap instrumentals, video game music, and the John Cena theme completely unaltered. After that I was kind of done and mostly just focused on my Synthwave project Dress-2-Kill, but in late 2015 I began to lose interest and decided to delve a bit more into Vaporwave and take it slightly more seriously. This is when the idea for the 9/11 aesthetic for the album and when I started making plans for the VHS tape. For those unfamiliar, can you describe the sound of and the influences for lペプシマンl? For the sound of lペプシマンl I try to go for a more 80's influence. You could almost classify the music as Synthwave but due to the fact that I mostly just chop and screw samples together I would more so classify at as Vaporwave. I guess some would label it as Future Funk but I don't think that accurately describes the sound I'm aiming for. I want my music to be the perfect soundtrack for driving by the beach or through the city at night.
The Limited Edition VHS version of the album. Grab the slab HERE.
What inspired you to put this release on VHS? Can you give us the details on the release? In the Vaporwave community there is a large influx of videos that utilize Japanese commercials as the imagery. I have always enjoyed that aspect so I figured why not include this with the album and put it on a format that by most is considered obsolete. What could be more vaporwave than that? There were 20 VHS tapes for sale as well as 20 cassettes for the first run, and the second run has another 20 cassettes and 15 VHS tapes. The VHS comes in a white clamshell, and the video comes with music videos for each track on the album made from Japanese commercials from the 80's/90's as well as some 9/11 footage. Between all of that is a mixture of Vaporwave movie clips, trailers, random internet videos, and even a couple of episodes of Seinfeld at the end; it rounds out to about two hours. I ran into a bit of a snag with the second print. I was under investigation by the FBI due to the album and had to personally meet with an FBI agent so they could rule out the possibility of me being a terrorist. Was quite an interesting experience to say the least.
Well, damn, that's pretty VHScary, dude. Too wild! So, are you a VHS collector yourself? When did you get into it? What's your take on the culture? I am actually a small collector of VHS. I got into it during 2013 after finding some Japanese action and Hentai movies at some video store that was closing down in Seattle. I had to own them after seeing the covers. I mostly just try to collect films that do not exist/ are hard to find on DVD/Blu-ray or if I just enjoy the cover art. Personally, I think it's an amazing culture, there are tons of great films that as of yet have not been released on any other format, plus the artwork makes it a huge appeal. Cover art is something that over time, has just become more and more irrelevant for modern films. Some movies are beginning to make some throwbacks to the early VHS era cover art for their posters such as Hobo with a Shotgun or Wolfcop, overall though they have just become boring.
The Limited Edition audio cassette release for the album, available HERE.
Where can we grab the slabs, and how do we keep up with you, man?
You can always follow my
bandcamp
,
soundcloud
,
YouTube
, or you can always watch for my posts in the
Vaporwave Facebook group
. It's a bit of a clusterfuck in there but that's where you'll get most of my hints towards a new album. I can currently say that a couple of albums are in the works: the first is based around a
Saved by the Bell
aesthetic and the second is sort of up in the air but I am leaning towards a
Mighty Morphin' Power Rangers
style. I have also been getting into Eurodance aesthetics so I'm trying to find ways to incorporate that into the music.
Wait, did someone say Digiorno, though? Man, we're hungry. That mix of inspiration sounds right on the money to us, Tapeheads, especially if you're into that neon 90s nostalgia kind of flavor. PEPSIMAN's latest release 9/11 is available on limited VHS and cassette right now, and it's only 7 bucks, man. That's a veritable VHSteal. And you know that VCR is hungry. But don't feed it the frozen pizza. That's for you.
Groove and Groove and Statues and Swimming Pools and Windows 95, Dude.
Josh Schafer
---