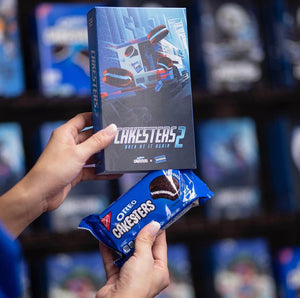 OREO to Re-Launch CAKESTERS at THE LAST BLOCKBUSTER in BEND, OR in Limited Edition VHS Sleeves
By Josh Schafer
If you're a rewind regular here in Lunchmeat Land, you're likely aware that there's nothing we love more than VHS and snacks. So when we saw that the iconic cookie-mongers at OREO were re-launching their CAKESTERS confection with a radical rewind-inclined spin, we had to let our fellow Tapeheads and VHSnackers know!
According to today's social media posts (1/7/22), Oreo is declaring "It's 2007 All Over Again." 2007 was the year Oreo's CAKESTERS originally launched, and now, for the re-launch, they're bringing them to the only place where it's still 2007: The Last Blockbuster in Bend, OR.
From the promo video published on their social media, it looks like OREO created some novelty VHS slipcases with covers mimicking some popular movie art from the time, and apparently, the CAKESTERS live in there. The cakes slide right out of the box in the video, and it urges people to go pick up a VHS and some CAKESTERS in Bend, OR.
Does that mean that you can get CAKESTERS in a VHS box at The Last Blockbuster? We're pretty sure that's what it means.
If you don't live in Bend, OR and can't get to The Last Blockbuster, OREO says CAKESTERS will be available at select retailers this month, sans the VHS case.
Is this a cultural cash-in? Probably.  But does that make it any less rad that industry giants such as OREO (i.e. Mondelez / Nabisco) are giving VHS and video stores a nod? We think not: It's super rad. I mean, did you think you'd ever see an OREO product slide out of a VHS case? We didn't, and we're glad it exists.
Now just wait for the inundation of eBay listings for these things. Of course, that's another story for another day, so we won't VHSpeculate on it. 
But for now, let's just bask in the fact that one of the best snacks on Earth is sliding out of a VHS case, in the Last Blockbuster on Earth. That's pretty groovy, man.
---