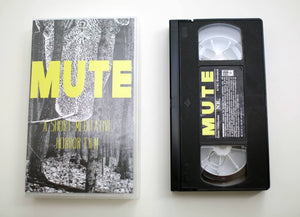 A COLOR GREEN Releases Their Short Film MUTE on Limted Edition VHS! Pre-Order Now for Halloween Delivery!
That fresh VHS train is steady rewind rollin', Tapeheads, and this time it's offering up a slab featuring a short film called Mute that'll be ready to slip into your VCRs right around Halloween, courtesy of a crew called A COLOR GREEN. After a heavy film festival tour this Fall with appearances at Sebastian Horror Festival, La Mano Fest, Tucson Terror, Philly Unnamed, Brooklyn Horror Film Festival and more, A COLOR GREEN has decided to send their short film MUTE straight-to-VHS in a limited edition fashion. You know we can dig it. Here's a look at the VHS release, which is available for pre-order right here, right now…
A full look at the VHS package for MUTE from A COLOR GREEN. Grab dat slab before you can't, man!
And here's more info on Mute, straight from ACG: Featuring underground Danish star Albert Bendix (Co-Founder of the Scandinavian American Theatre Company) as a tongue-chopping psycho named Mute Man - MUTE's a grisly, psychological thriller with odes of Nordic Horror and B-Movie mania taking on just as odd of a roll-out by going analog instead of the often all too familiar Vimeo or YouTube release. Check out the exclusive VHS produced in-house at A COLOR GREEN with support from Trash Pile Collectibles and BK-based designer & street artist Wienerboy.
Another look at MUTE on Limited Edition VHS from A COLOR GREEN. Bring the VHSilence.
This indie analog release will be the only way to view Mute this year outside of the festival circuit and guarantees 5 minutes of blood-soaked, edge-of-your-VHSeat action, double-sided insert art, a limited edition Mute poster and some extra-special secret goodies to go along with it!
A COLOR GREEN's Mute is available for pre-order for just 10 bones as we VHSpeak, and if you clickity-click on over and secure your slab now, it'll arrive your doorstep just in time for those fantastic Halloween festivities, man! You can also stay tuned in to all the updates on Mute and A COLOR GREEN by sticking to their official site right here. But watch out, Videovores... it seems like some strange things have been happening to those who feed this bad boy to their VCR. Stuff like THIS.
Groove and Groove and Roach Rules.
Josh Schafer
---