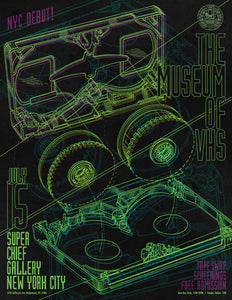 HORROR BOOBS Presents THE MUSEUM OF VHS - NYC Debut, Tape Swap, and Screenings at SUPERCHIEF NY!
Heads up, Videovores of New York! On Saturday, July 15th 2017 the Museum of VHS will be invading New York for the very first time! 2017 marks the 40th anniversary of the VHS tape and what better way to celebrate than to have the Museum of VHS bring their biggest, most exhilarating, and educational exhibit yet to the Big Apple! The memories of perusing the isles of your local Mom and Pop shop will come rushing back to you as you feast your eyes on vintage video store decor, scarce promotional material, mounds of eye popping posters, standees and slicks, original paintings used to create box art and some of the rarest films to ever be committed to the medium.
The official poster for the upcoming MUSEUM OF VHS exhibition at Superchief Gallery in NYC by Earl Kess!
Superchief Gallery in Ridgewood is proudly hosting this special one day only exhibit, which will include a tape swap from 1PM to 7PM where vendors will be set up selling and trading tapes. Vending tables are available but limited, so hurry up and contact horrorboobs@gmail.com for more info! Then from 7pmto 10pm enjoy a block of programming that will be sure to melt your brain, including a special feature presented by New Jersey's premier obscure cult film label Saturn's Core Video. Entry to the day's festivities are FREE so enjoy and explore the world of home video at the biggest VHS event of the year at no expense whatsoever, dudes! So here's that info again, just in case you missed it! Saturday, July 15th 1PM to 7PM VHS Swap and exhibit 7 to 10 Movie Screenings Superchief Gallery 1628 Jefferson Ave, Ridgewood, NY 11385 You can CLICK HERE for the official Facebook event page - join and stay updated! And you can check out the following links for more info and updates! www.museumofvhs.com www.superchiefgallery.com www.horrorboobs.com If you're looking to be a vendor, tables are 30 dollars, and spaces are limited! For more info, contact the Horror Boobs crew at horrorboobs@gmail.com!
Hope to VHSee you here, Tapeheads!
Groove and Groove and Watch Out for the Porno Dust!
Matt Desiderio / Josh Schafer
---