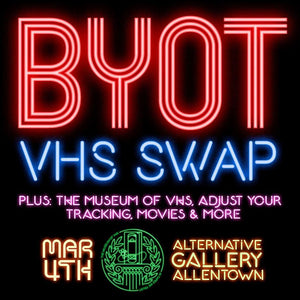 The Museum of VHS and The Alternative Gallery present ANALOG APPRECIATION DAY! Saturday, March 4th! An Absolutely FREE Event!
Heads up to all the Videovores of Allentown and VHSurrounding areas, man! On Saturday, March 4th at THE ALTERNATIVE GALLERY located at 707 N 4th St, Ste 103, Allentown, Pennsylvania 18102, it's a totally FREE analog-driven event you just won't wanna miss! Featuring an all-new exhibition from The Museum of VHS, Analog Appreciation Day will also offer a BYOT (Bring Your Own Tapes!) VHS swap, a bunch of video vindicating vendors, mad munchies and a special screening of the LUNCHMEAT co-produced full-length feature documentary Adjust Your Tracking: The Untold Story of the VHS Collector! Plus, surprise screenings via VHS and Super 8 film all throughout the evening! It's gonna be one rewind-inclined radical time, Tapeheads!
All the fun starts at 12 NOON, Tapeheads! Hope to VHSee you there!
LUNCHMEAT will be in attendance with all our groovy VHS-obsessed goodies, along with bountiful boxes of tapes for sale and trade, so be sure to bring a stack of magnetic magic and swap til you drop, man! You can get all of the information on the Official Analog Appreciation Day event page by clickin' right here! Remember, this is a totally FREE event, so come on out and party with us, man! This will RULE!
Groove and Groove and Ain't Nuthin' but a Free Thang!
Josh Schafer
---