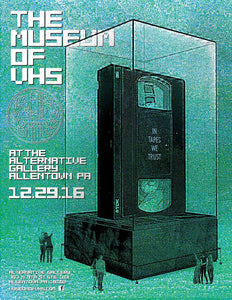 THE MUSEUM OF VHS Comes to The Alternative Gallery in Allentown, PA on Thursday, Dec. 29th from 6 – 10PM! This is a TOTALLY FREE EVENT, Tapeheads!
Heads up to all the Videovores of Allentown, PA and surrounding areas! The home video history preservation and archival initiative THE MUSEUM OF VHS will be on display at The Alternative Gallery located at 707 N 4th St, Allentown, PA 18102 this coming Thursday, December 29th from 6 P.M. – 10 P.M. This is a totally FREE EVENT! LUNCHMEAT will be on hand and supplying a few choice pieces for this installation, so if you're in the area, be sure to groove on out and enjoy some most excellent home video history including, but not limited to rare VHS, obscure analog era gadgets, video store promotional items and ephemera, vintage VCRS and much more, man!
The Official Poster for the upcoming MUSEUM OF VHS display happening 12/29/16 at The Alternative Gallery in Allentown, PA! DIG IT!
If you're unfamiliar with THE MUSEUM OF VHS, you can find out more info and see past exhibitions on the official site, and check out the Official Facebook page to stay up-to-date on all of the upcoming news and installations for the future of THE MUSEUM OF VHS! You can also view the THE MUSEUM OF VHS installation from SEVERED 2016 via this groovy video tour by following this link! Or you can just view it below, dude!
Long Live the Appreciation, Celebration and Preservation of VHS culture!
Groove and Groove and In Tapes We Trust!
Josh Schafer
---