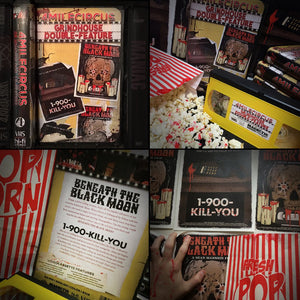 MAGNETIC MAGIC RENTALS Unleashes a Fresh VHS Double-Feature featuring Short Films BENEATH THE BLACK MOON and 1-900-KILL-YOU aka SMALL TALK! Available October 1st!
It's no VHSecret that the advent of fresh VHS releases has been majorly driven forward by short and feature-length indie films. The platform of limited edition VHS for these flicks offers both the releasing entity and the filmmakers a groovy avenue to expand their visibility while simultaneously creating a piece that celebrates and perpetuates their affection for the analog aesthetic. It's truly terrific stuff, Tapeheads.
The radical crew over at Magnetic Magic Rentals are certainly no VHStrangers to this winning rewind-inclined kind of operation having already offered a couple of choice slabs of indie cinematic audacity with Thomas Shablesky's insano shot-on-video horror / comedy Two Witches and Jerry J. White III's brooding psychological thriller The Horror. Come Saturday, October 1st at 12PM CST, MMRentals is ready to invade your VCR once again with a double feature video release featuring two short films on one slab amped up with a mess of bodacious extras. Here's a look at the limited edition VHS release for 4MC: Beneath the Black Moon / 1-900-KILL-YOU, along with the official info directly from MMRentals:
A look at the cover art, limited insert VHS and posters for BENEATH THE BLACK MOON / 1-900-KILL-YOU from MMR. Gim'me dat popcorn, mang.
Magnetic Magic Rentals and 4 Mile Circus are proud to present an insane Grindhouse Double-Feature featuring the short films "Beneath the Black Moon" and "1-900-KILL-YOU" (aka "Small Talk")! "
Diana, a pious young woman, fends off the regular advances of her amorous boyfriend, Terry. When Diana is kidnapped by Selene and her coven, who need a virgin for their ritual, she and Terry must stop them from summoning Satan and starting Armageddon. Can the young couple stop the bloodthirsty witches' plans? Or will they meet their end BENEATH THE BLACK MOON?" "Allison, an intelligent and inquisitive phone actress by trade, is about to enter the most bizarre and brutal period of her young life. After she begins to experience inexplicably severe migraine-like headaches during certain disturbing calls, the bodies begin piling up, and then things get REALLY weird. Is Allison losing her grip on reality, or are forces even more sinister than basic service industry exploitation at work? Find out in 1-900-KILL-YOU, where it's never just a little conversation." Blood-soaked Extras Include: - Meme: The Movie Teaser Trailer - 1-900-KILL-YOU Teaser Trailer - 1-900-KILL-YOU Grindhouse Trailer - 1-900-KILL-YOU Deleted Scene - Behind the Scenes: Gore Fail! - Behind the Scenes: News Report Outtakes Each release comes in a Black Clamshell with Black tape, and three randomly inserted Grindhouse Variant yellow tapes. Also includes double-sided Beneath the Black Moon / 1-900-KILL-YOU mini-poster, a Grindhouse Variant MMRentals Sticker and a Mini Candy Blood Bag! Man, that's one powerful package, eh, Tapeheads?! We'd VHSay so. You can peep the trailer for the release below…
And get this, Tapeheads: Beneath the Black Moon also has ties to another VHS-driven indie flick called Meme from director / writer Sean Mannion. Here's a little analog insight from Mannion himself on the connection: "MEME is deep in post-production after shooting on no budget from late 2014 through late 2015. One piece of the film that we've been pushing is an 80s VHS-style horror homage called BENEATH THE BLACK MOON that we shot as a film-within-the-film. BENEATH THE BLACK MOON stars Lisa Hammer, a friend of mine who I've been working with on a few projects lately." And any Tapehead that's VHSteadily tuned in to Lunchmeat Land knows we're a big fan of the awesomeness that is Lisa Hammer, man! She absolutely rules. This is one majorly VHSweet double-feature slab of indie film excellence from the dudes at MMRentals, so get your tape-lovin' caboose to groovin' on over to their Official Store on Saturday, Oct 1st at 12noon CST. Your VCR will enjoy it.
Groove and Groove and Consume Mass Quantities.
Josh Schafer
---
2 comments