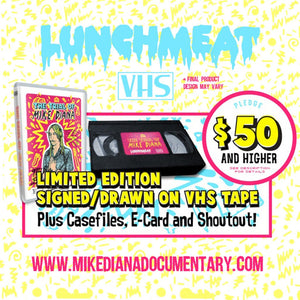 LUNCHMEAT Offers Limited Edition VHS Reward for THE TRIAL OF MIKE DIANA Documentary Kickstarter! Click On for Details, Dudes!
If you're a fan of bold, irreverent and stoutly unrepentant outsider art, chances are you've encountered the distinctly deranged work of cartoonist Mike Diana. And if you're familiar with Diana's predominately self-published output, then you're likely to be aware of the infamous Boiled Angel incident where he became the first U.S. artist to be tried, convicted and briefly jailed on three counts of artistic obscenity. What you might not know is that producers Anthony Sneed and the radical Mike Hunchback are currently running a Kickstarter campaign to finish a full-length feature documentary to be directed by cult favorite filmmaker Frank Henenlotter (Basket Case, Frankenhooker) that will detail the narrative of Mike's incredible judicial debacle: The Trial of Mike Diana. Here's a look at the Official Kickstarter campaign trailer just below…
Now, there's already an enticing spread of goodies being offered as rewards for contributing to this righteous cinematic cause such as original art from Mike, signed editions of the film, an exclusive Mike Diana comic book and even a movie night with Frank and Mike! BUT WAIT! NOW THERE'S MORE, MAN!
Pledge yourselves! And together, we'll all freak out! THIS WILL RULE.
LUNCHMEAT is super-VHStoked to announce that we'll be teaming up with the Mike Diana crew and bringing
The Trial of Mike Diana
to limited edition VHS for 20 lucky Tapeheads! Each VHS reward pack will include an exclusive VHS edition of the film, an HD digital download, the actual Mike Diana case files in digital form, a Holiday E-card and a social media shout-out! And get this: each edition will also include a unique and sickening sketch directly from the hand of Mike Diana as a part of the cover art! Too groovy, dude. These bad boys will ship in unison with the DVD and Blu-Ray releases of
The Trial of Mike Diana,
which will commence after the film's festival run and traditional distribution! There are just 15 days left to
support this immensely important project,
so don't delay, Tapeheads! Groove on over to
The Trial of Mike Diana
Kickstarter pronto and pick yourself up some absolutely righteous limited edition rewindable material. You won't be able to grab this slab anywhere else, man! The power of your VCR compels you!
Groove and Groove and Watch What You Want When You Want.
Josh Schafer
---