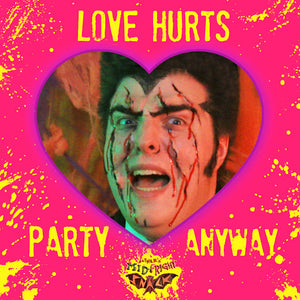 LUNCHMEAT and SICK SLICE CINEMA are Proud to Present LUTHER'S MID-FRIGHT SNACK Episode 2! Click to watch and Try to Survive… DESSERT!!
It's finally here, man! If you're looking for a bodacious date for Valentine's Day 2017, the LUTHER'S MID-FRIGHT SNACK crew are undoubtedly your dudes! In this newest episode of LMFS (you can catch up on episode one here) you'll follow Luther VanGross and Josh the Delivery Dude through a sticky-icky, ooey-gooey ridiculous mess of hilarious madness as they choke down some of Rick Spudman's putrid pastries and try to survive a totally ferocious, sugar-soaked snack attack! Better chew fast, or these mutant munchies are gonna bite you back!
Party Hearty on this Valentine's Day, dudes! The Power of LUTHER Compels YOU!
You'll also encounter Luther's flat-out freaky Father and hang loose with a sticky marshmallow dude from hell known only as MARSHELLOW! PLUS! A too groovy music video from psych-garage punks CaveWomen! AND MORE, MAN! It's enough to make you bust a gut while simultaneously exploding your dome! Only one way to find out, though! Open wide and take a bite of the newest episode of LUTHER'S MID-FRIGHT SNACK just below!!
We hope you dig the new episode, Mid-Fright Snacksters! We'll be back soon with another frighteningly fun slice of LUTHER'S MID-FRIGHT SNACK, but in the meantime, groove on those lovely leftovers! They is delicious!
Groove and Groove and Hang Loose with Some Boob Tube.
Josh Schafer
---