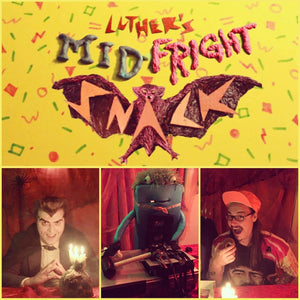 SICK SLICE CINEMA and LUNCHMEAT Proudly Present the Outrageously Radical TV Show LUTHER'S MID-FRIGHT SNACK! Check out the Premiere Episode RIGHT HERE!!
It's arrived, Videovores! The super-VHSpecial Lunchmeat Halloween Treat for 2016 is now ready to invade your brain! Lunchmeat has teamed up with the ridiculously radical crew over at Sick Slice Cinema to present a weird and wild mix of live-action, puppetry and crazy claymation to create a totally spooktacular TV show unlike any other you've seen before: LUTHER'S MID-FRIGHT SNACK! You may have caught the Official teaser trailer yesterday, and if you did, we know you're ready to chew on through this premiere episode and party down with Luther and his crew!! So… HERE IT IS, VIDEOVORES!! We hope you dig!!
Follow Luther VanGross, an aspiring but unfortunately inept horror host, and his dudely pizza delivery guy sidekick Josh as they hilariously misadventure through a spread of malevolent munchies and sinister snacks and try to survive! Encounter kooky characters such as Vinny the VCR Repair Puppet (voiced by Barrett Wulderk), a Wisecracking, finger-munching cheese pizza (played the Teenage Videovore Johnny Dickie) and the rotting cranium cornball jokester Funny Bones! You just gotta see it to believe it, man!
LUTHER'S MID-FRIGHT SNACK LIVES! Hayden Hall as Luther VanGross, Barrett Wulderk as Vinny the VCR Repair Puppet and Yours Truly (Josh Schafer) as The Delivery Dude!
This is the first of a four episode season, which we plan to air here on LunchmeatVHS.com, YouTube and on
Philadelphia's cable-access channel PhillyCAM
(once we're approved!), so stay tuned to LunchmeatVHS.com and
Sick Slice Cinema
to stay updated on all the info for the next surreal serving of LUTHER'S MID-FRIGHT SNACK!
Groove and Groove and HAPPY HALLOWEEN, DUDES!!
Josh Schafer
---