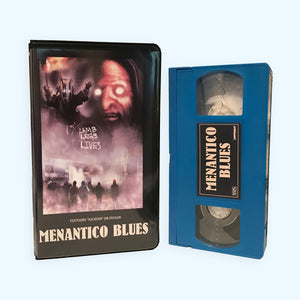 LUNCHMEAT Proudly Presents the Darkly Comedic Folklore Horror Film MENANTICO BLUES on Limited Edition VHS!
LUNCHMEAT is super VHStoked to team up with Boogerlip Productions to bring all the Tapeheads out there a Limited Edition VHS release of MENANTICO BLUES! Starring "Hacksaw" Jim Duggan (yes, THAT "Hacksaw" Jim Duggan!) and strikingly directed by Ricky Whitehead, MENANTICO BLUES adeptly spins the strange and brooding tale of bizarre rituals, mysterious happenings, and the enduring legend of a deformed man lurking in the shadows juxtaposed against the harsh deterioration of small, working-class town into a grimy, crime-ridden wasteland.
MENANTICO BLUES committed to Hunter Orange videocassettes. Don't VHShoot yourself in the foot. Grab this slab.
Blending a potent mix of dark comedy and folklore with elements of visceral horror, MENANTICO BLUES dares you to explore the darkest and most mystifying regions of South Jersey's troubled backwoods. This Limited Edition VHS is NOW AVAILABLE in the official Lunchmeat store! Grab this slab by clicking this hot, hot, hot link!
MENANTICO BLUES on Sinkhole Blue videocassette. Dig it deep, Tapeheads. VHSnag it HERE.
Here's the official synopsis for MENANTICO BLUES: Locals recall bizarre sightings in South Jersey during the 1970s and more reported decades later, including a gruesome tale from a group of friends hunting near the Menantico Ponds in December 1995. Based on the urban legend of "Lamb Legs", a half-man, half-lamb creature who roamed the sand pits, blue holes and wooded outskirts on Millville, NJ. And for a further peek into the darkness of South Jersey's backwoods, here's a look at the official trailer:
This VHS edition of MENANTICO BLUES is limited to 35 copies: 5 Sinkhole Blue videocassettes, 10 Hunter Orange videocassettes, and 20 on Classic Black. Once these copies are gone, they're totally home video history, so load up your shotgun and pick up some Schmidt's – if you don't grab this slab now, you'll just have to fend for yourself. And that wouldn't be good. Not good at all.
Groove and Groove and LAMB LEGS LIVES, HOOOOOO!
Josh Schafer
---