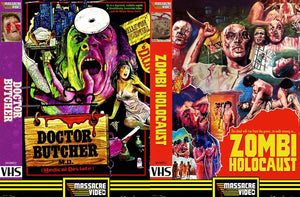 MASSACRE VIDEO Teams Up with SEVERIN FILMS and Brings NURSE JILL, ZOMBI HOLOCAUST and DOCTOR BUTCHER M.D. to Fresh VHS Today (10/21/16) at 6PM EST!
Those radical rewind-inclined dudes over at Massacre Video are at it again, Videovores! You probably recall when they recently unleashed a fantastic slipcase cover VHS edition of the outrageous shot-on-video splatter flick 555 (which you can read all about RIGHT HERE) that got a lot of Tapeheads totally VHStoked, but they're about to get VHS heads revving up their VCRs all over again with a trio of totally killer tapes set to be unleashed at 6PM EST on 10/21/2016 exclusively on Massacre Video's official site. The three slabs about ready to be served up in association with Severin Films? NURSE JILL, ZOMBI HOLOCAUST and DOCTOR BUTCHER M.D. Here's a peek at some of the cover artwork below…
Sneak peeks at the cover art for DOCTOR BUTCHER and ZOMBI HOLOCAUST VHS from Massacre Video. That's what we call analog irresistible.
And here's a bit of the official announcement harvested from the Massacre Video's official Facebook: Today at 6pm EST, the ZOMBI HOLOCAUST, DR. BUTCHER M.D and NURSE JILL VHS will be available to purchase. There will be a special combo pack that will include a DR. BUTCHER M.D VHS, ZOMBI HOLOCAUST VHS and a DOCTOR BUTCHER M.D FUN MASK(11x14)! What's that?! A DOCTOR BUTCHER M.D. FUN MASK?! And just in time for Halloween, man! Here's a look at the 11x14 full-color cut-out mask, which is printed on heavy cardstock…
Now THAT is just what the Doctor ordered, man. This thing RULES.
So set your rewind watches, Videonauts, and groove to
Massacre.Video
at 6PM EST to score these bad boys. You know you want that mask, man. You do.
Groove and Groove and That's Totally Dali, Dude.
Josh Schafer
---