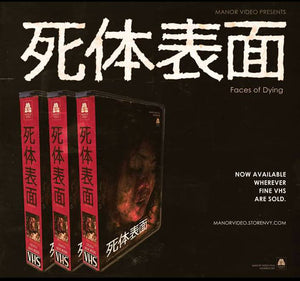 MANOR VIDEO Unleashes Limited Edition VHS of the Dustin Ferguson Death Film FACES OF DYING!
Hey-yo, Videovores! Here's a heads up on some fresh VHS from that fringe family of video vindicators over at Manor Video! You may recall this analog-oriented outfit from limited edition VHS releases such as the harrowing heroin addiction documentary Black Metal Veins or their most recent rewindable edition of Faim de Mort, a trilogy of dark and sanguinary short films from French filmmaker Francios Yagopian. Now, the Manor has opened its grime-caked doors once again, inviting you to experience their newest release: Faces of Dying. Created by combining classic death footage with newly-shot gory and shocking material from director Dustin Ferguson, Faces of Dying is apt to delight anyone with an appetite for depraved visions of human death. Here's a look at the Limited Edition VHS release below…
FACES OF DYING by Dustin Ferguson from Manor Video. Dig that classic death, man.
Housed in artwork paying homage to those seminal Japanese death / gore films so many adore, this Faces of Dying VHS release is limited to just 50 copies, and is exclusively available via the Official Manor Video webstore. Manor Video warns: Nothing can prepare you for what you are about to witness. That doesn't mean a couple of brew doggies and big bowl of crunchy munchies won't help, man. These are sure to sell-out, so groove on over and secure some mondo shockumentary blood and guts for your VCR before these slabs are all gobbled up, Tapeheads. You have been warned!!
Groove and Groove and Look Who's Coming to Din-Din!
Josh Schafer
---