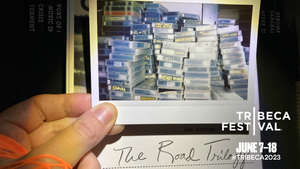 LUNCHMEAT to Co-Present KIM'S VIDEO at TRIBECA FESTIVAL on JUNE 13th!
Hey-yo, Tapeheads! We are super VHStoked to team up with Tribeca Film Festival to present the new video store-driven documentary from filmmakers David Redmon and Ashley Sabin!
KIM'S VIDEO screens at Tribeca on Tueseday, June 13 at 8:30 PM at Village East! You can grab your tickets HERE, and if you use the code LUNCHMEAT, you'll receive 20% off your ticket! 
MORE ON KIM'S VIDEO: 
If you were a New Yorker with a taste for unconventional movies, you likely perused the aisles of Kim's Video and Music. Its owner, Yongman Kim, became as much of a legend as the films he collected over the years. When the store meets an unexpected end, he strikes a deal with an Italian city's government to preserve his vast film collection. However, that is far from the end of the story for Kim's Video, as directors David Redmon and Ashley Sabin find out. 

This genre-bending documentary often feels too strange to be real, but it is (if you can believe it). From first-person confrontations with those in charge of preserving the collection to interviews with notable former employees, like director Alex Ross Perry, you'll become engrossed in this fascinating story whether you're nostalgic for or new to the world of Kim's Video. If you're looking for a true ode to the power of filmmaking, look no further: Redmon, Sabin, and Kim have what you need.––Jarod Neece
That's JUNE 13 at 8:30 PM at Village East! Grab your tickets with THIS LINK, and use code LUNCHMEAT for 20% off!!
VIDEO STORES FOREVER. 
---