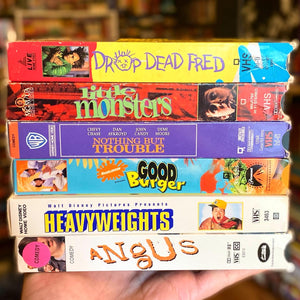 LUNCHMEAT Teams Up with MAHONING DRIVE-IN THEATER to Bring You 90s REWIND on October 14th and 15th 2022! Event Details and Tickets Now Available!
Hey-yo, Tapeheads! Want to see an amazing line-up of 90s comedy video rental essentials on the BIG SCREEN?! NOW YOU CAN! Get ready for an avalanche of 90s nostalgia with us, VHSNACKIN', and The Mahoning Drive-In Theater for 90s REWIND on October 14th and 15th only at MAHONING DRIVE-IN THEATER in Lehighton, PA!
TICKETS ARE AVAILABLE NOW HERE: https://mahoningdrivein.ticketleap.com/90s-rewind/
MORE ON 90s REWIND:
It's time to be kind and 90's REWIND on October 14-15 with The Mahoning Drive-In Theater and Lunchmeat, as they present two nights of triple features designed to delight Generation Z!
It's a radical roundup of video store favorites that were repeat rentals for 90s kids, with vendors and film introductions by the VHSNACKIN' podcast!
Friday night kicks off with everyone's favorite impish imaginary friend, with Phoebe Cates juggling life, a career, and the return of rambunctious Rik Mayall as DROP DEAD FRED (1991)!
Once you've put FRED to bed, don't look under it, or you may find LITTLE MONSTERS (1990) underneath, just like Fred Savage did!
Just like our first two films, the characters in the third find NOTHING BUT TROUBLE (1991) when they get caught speeding in Valkenvania and find themselves trapped in a bizarre small town, filled with maniacal miscreants!  Featuring Dan Ackroyd (who also wrote and directed), Chevy Chase, Demi Moore, John Candy, and Tupac Shakur!
Bring your appetite on Saturday night, as we're serving up GOOD BURGER (1997)! Nickelodeon Films took Kenan & Kel off the small screen and onto the big with this workplace comedy about rival burger joints, featuring Sinbad and Abe Vigoda! 
After two hours of fast food frolic, it's off to exercise camp for the HEAVYWEIGHTS (1995), as they enter a summer bummer with fanatical fitness guru Ben Stiller, in this kid comedy co-written by Jud Apatow!
The evening ends with an aspirational tale of a lovable loser who's paired with his classroom crush for a big dance at the Winter Ball.  Will ANGUS (1995) go from zero to hero? Featuring James Van Der Beek, Kathy Bates, and George C. Scott!
It's a 2-day rental not to be missed!  No late fees, no membership required!
Come early and shop Hella Vendors, Get Jiggy to 90's Music, Bomb Themed Eats, Raffles + Merch that are All That & A Bag Of Chips.. 
EARLY General Gates at 4pm each night. Showtime at Sundown.
General Ticket: $10 (per person). General+Overnight: $20 (per person)
See MahoningDIT.com for FAQ.
All events are Rain or Shine. No refunds or transfers.
We'll VHSee you at MAHONING DRIVE-IN THEATER on OCTOBER 14th and 15th for a TOTAL 90s NOSTALGIA OVERLOAD, TAPEHEADS! Don't not make it due to lack of hustle!!
GRAB YOUR TICKETS HERE!
---