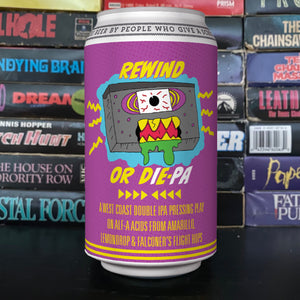 LUNCHMEAT Teams Up with Hutton & Smith and Five Wits Brewing to Unleash REWIND OR DIE-PA Can Brew! [EVENT DETAILS]
By Josh Schafer
Fans of high gravity, rewind-inclined brews, we've got some radical news! We are absolutely VHStoked to put our heads together with Hutton & Smith and Five Wits Brewing to press play on REWIND OR DIE-PA: a high-percentage can brew to tickle your Tapehead tastebuds!
The release rolls out on Saturday, March 5th at Hutton & Smith Brewing Co. (located at 431 E M L King Blvd #120, Chattanooga, TN 37403) from 2pm – 6pm with a VHS Swap and pop-up Market with LUNCHMEAT live on site along with Eat Ghosts Food, live music and retro goods from LUNCHMEAT, Poor Taste Vintage Clothing, VHS Party Tonight, SoBros Network, SwampFox oddities and more! 
Rewind or Die-PA, an 8% West Coast Double IPA brewed with Amarillo, Lemondrop and Falconer's Flight hops will be served right out of the Ale Camino. In addition to this radical collaboration beer, Hutton & Smith will be releasing TWO new small batch IPA's and tapping fresh batches of Hutton's Scotch Ale, Diatomaceous Dry Stout Muad'DIPA, and some reserved Rob's Malt Liquor! It'll be a total party, Tapeheads!
Check out Hutton & Smith HERE for more information, and we can't wait to VHSee you there, Videovores!
---