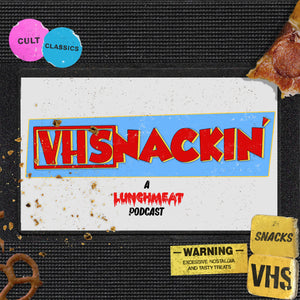 LUNCHMEAT Launches Our First Podcast with VHSnackin' - Rewind Back to Nostalgic Video Era Classics and Try Some Tasty Treats
By Josh Schafer
Hey-yo, Tapeheads! We're VHStoked to announce the launch of our first podcast: VHSnackin'! Join us as we delve into the nostalgic cult classics that helped shape our taste in cinema, and continue to be comfort food films to this day. Oh, and there's snacks, of course! Rad ones! Gotta have the VHSnacks, Videovores!
Hosted by Josh Lunchmeat and Phil from The Spookhouse Podacst, get ready to rewind back to some video era classics, and munch on some tasty treats: this is VHSnackin!
Our first three episodes featuring HEAVYWEIGHTS, DENNIS THE MENACE, and AIRBORNE are now available on iTunes, Spotify, and wherever you listen to your podcasts! We hope you dig on it, Tapeheads! 
---