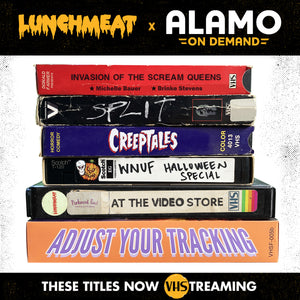 LUNCHMEAT joins ALAMO ON DEMAND with a Curated Collection of VHS-Driven Entertainment! Experience Our Virtual VCR!
It's the most common complication in the current state of our world: you're VHStuck at home, and in dire need of some weird, wild, and wonderfully ridiculous entertainment… but your last VCR just went on the fritz, or even worse: you're completely VCR-less. Not to worry, dudes: we got you. LUNCHMEAT is super VHStoked to team up with Alamo Drafthouse and curate a rewind-radical six-pack of VHS-driven flicks for Alamo On Demand!  
Here's all the details on this exclusive LUNCHMEAT collection now available on Alamo On Demand.
Crack open this six pack of VHS-fueled entertainment and take a rewind-radical ride with LUNCHMEAT as your guide! You may know LUNCHMEAT as the most bodacious destination for the appreciation, celebration, and preservation of VHS and Video Store Culture, and they've (we've) curated a too groovy VHStreaming selection that'll rewind your mind and turn you on to becoming a total Tapehead!
Offering a heady blend of insight and entertainment, this six pack invites you to explore the vast cultural impact video rental stores, delve into the strange world of modern day VHS collectors, and scream with queens that that lived the low-budget horror dream!  You can also get your brain rearranged while pinballing  through an alternate plane, nosh on some low-budget horror comedy anthology obscurity, and rewind back to the terrifying broadcast from one town's night of legendary Halloween fright!
VHS is alive! REWIND OR DIE!
All of these fantastic flicks are available to VHStream via Alamo On Demand right now. And you don't even have to rewind! Man, the future is funny, isn't it? And though you don't have to rewind, please remember to be kind, always.
Groove and Groove and The New Way to Boob Tube.
Josh Schafer
---