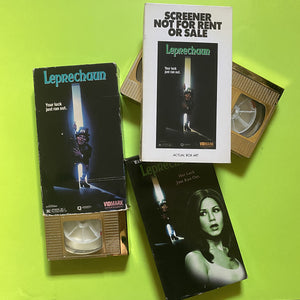 LUNCHMEAT Brings LEPRECHAUN to the Big Screen on VHS with VIDEODROME and MICHAEL MYERZ at PLAZA THEATER in Atlanta, GA on March 5th, 2023! [Tickets & Info]
Hey-yo, Tapeheads of Atlanta! YOU FEELIN' LUCKY?! You better! Because on VHSunday, MARCH 5th, 2023 we're teaming up with Atlanta, GA's only living video store VIDEODROME and outsider rap madman MICHAEL MYERZ to bring LEPRECHAUN to the big screen (projected from VHS!) at PLAZA THEATER!
TICKETS AVAILABLE WITH THIS LINK!
We'll also be showing some choice snippets only available on this LEPRECHAUN screener tape from VIDMARK, which was made expressly for video stores! This event is a golden opportunity to see a 90s horror classic the rewind way!
TICKETS ARE NOW AVAILABLE FROM PLAZA THEATER! 
Here's the VHSchedule:
6PM: VHS Market in the lobby of the Plaza Theatre featuring a bunch of radical vendors! THE VHS MARKET IS FREE TO ATTEND!
8PM: Introduction with Josh Schafer of Lunchmeat hosted by Michael Myerz and LEPRECHAUN PROJECTED FROM VHS with bonus material! 
GO FOR THE GOLD, TAPEHEADS! VHSEE YOU THERE! GET YOUR TICKETS!
---