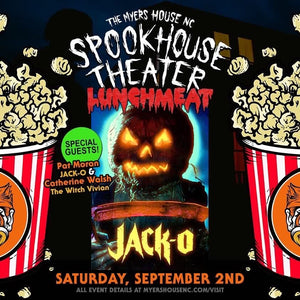 LUNCHMEAT and THE MYERS HOUSE NC Team Up to Present JACK-O for SPOOKHOUSE THEATER on SEPT 2nd! MEET JACK-O and THE WITCH in Person!
Hey-yo, Tapeheads! We are radically VHStoked to team up with THE MYERS HOUSE NC on Saturday, September 2nd, 2023 for a ridiculously fun and wildly spooktacular night of video store era HORROR!
We'll be pressing play at The Myers House NC in Hillsborough, North Carolina for a very special screening of the Halloween Horror Cult Classic JACK-O, projected on a big outdoor movie screen in the front yard of the house! 
We'll be joined by JACK-O special guests Patrick Moran (who played Jack-O-Lantern) & Catherine Walsh (who played The Witch, Vivian Machen). They will be signing autographs and doing a Q&A after the movie! THIS IS A RARE OPPORTUNITY TO MEET AND GREET THESE AWESOME PEEPS!
And as an additional treat, JACK-O will be followed by the 1991 horror flick POPCORN! Saturday night at the movies, dudes! 
*** Tickets to this event are by donation.***
CLICK THIS LINK TO RESERVE YOUR TICKETS!
Can't wait to VHSee you there and get into the spooky season spirit!! 
---