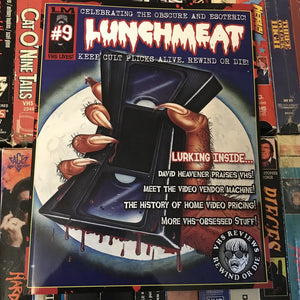 The Rewind Wait is Over, Videovores! LUNCHMEAT #9 IS NOW AVAILABLE!
Hey-yo, Tapeheads! It's FINALLY here! LUNCHMEAT #9 is now ready to boogie woogie on your rewind-inclined brain, dudes! This brand spankin' new issue is jam-packed with 52 pages of VHS-obsessed content including reviews of VHS-only titles like Terror on Tour, My Brother Has Bad Dreams, Invasion Force, Battle of the Bullies and many more!
We've also got radical interviews with Pleasant Gehman all about her experience filming the punk rock ripper The Runnin' Kind, words with low-budget action movie Renaissance Man David Heavener, and director Robet McGinley talks about creating the post-apocalyptic skate punk world of Shredder Orpheus! But that's not all, dudes! We'll also introduce you to the wonders of the VIDEO VENDOR machine, whisk you through a collection of incredible video era promo goodies with The Revenge of Analogtising, and detail the fascinating history of home video retail pricing! All this and much, much more await you within the pages of LUNCHMEAT #9, your number one publication for the appreciation, celebration, and preservation for all things VHS!
Just CLICK HERE to grab your slab of super-fresh radical rewind-inclined reading!
TA-DAAAA!! Dude, it's totally ready to roll! Clickity-click this here hot link, and VHSnag your copy!
So what are you waiting for, dudes?! Groove on over to our store and snatch up this VHSizzlin' hot off the press new issue! Your VCR will thank you!!
Groove and Groove and VHS Forever.
Josh Schafer
---