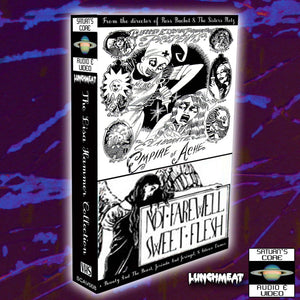 VHS SMASHES CANCER! Lunchmeat and Saturn's Core Audio & Video Team Up to Release THE LISA HAMMER COLLECTION on Limited Edition VHS for a Righteous Cause!
Heads up, my fellow Videovores! Legendary New York-based underground filmmaker Lisa Hammer (director of Pox, The Sister Plotz, and cult favorite Puss Bucket, as well as the voice of Triana Orpheus on the animated series The Venture Bros.) is currently battling cancer. In order to help raise funds for her treatment, the rewind-inclined analog enthusiasts at Saturn's Core Audio & Video and us here in Lunchmeat Land have teamed up to unleash a most radical, limited edition collection on VHS featuring Lisa's award-winning short films from the late 80's and early 90's! This hour-long collection will include (The Elaborate) Empire of Ache (1996), Not Farewell Sweet Flesh (1989), Beauty and the Beast (1992), Jorinda and Joringel (1995) and Adieux Dames (1987).
A mock-up of the upcoming LISA HAMMER COLLECTION VHS from Saturn's Audio & Video and Lunchmeat! Outstanding underground filmmaking on analog for a righteous cause. Dig it.
Absolutely 100% percent of the proceeds from the sale of this VHS release will go directly to Lisa and the "Lisa Kill Cancer" fund to help with her mounting medical bills.
A collection of stills from NOT FAREWELL SWEET FLESH which appears on the Lisa Hammer Collection VHS. Totally rewind weird and wonderful, man.
If you've seen Puss Bucket (originally released on Film Threat Video), then you're already familiar with the extraordinary brilliance of Lisa's early film work. Sexually charged gothic Grimm fables, 1920's silent cinema, and dime store German Expressionism converge in a surreal kaleidoscope that lands somewhere in the realm of works from Maya Deren, F.W. Murnau, Kenneth Anger, & John Waters.
A still from EMPIRE OF ACHE, which also appears on the Lisa Hammer Collection VHS. HEllOoO, Nurse.
The Saturn's Core A&V / Lunchmeat Lisa Hammer Collection VHS will be limited to just 25 hand-numbered copies, and will include some groovy Lunchmeat goodies. It will go on sale
Sunday, August 7th 2016
available
on the Official Saturn's Core Store.
So, mark those calendars, Videovores. Grab a slab of incredible indie film and help VHS smash cancer for Lisa Hammer!
Click on this here link to reserve your slab and help the cause, Videovores!
Groove and Groove and Stay VHStrong.
Josh Schafer
---