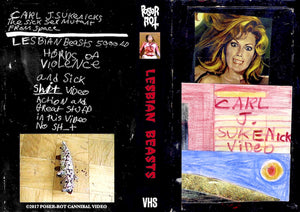 POSER ROT CANNIBAL VIDEO Presents a Carl J. Sukenick Double-Feature: LESBIAN BEASTS 5000 / THE SICK SEX MUTANTS FROM SPACE on Fresh VHS!
Endearingly odd avant-garde filmmaker Carl J. Sukenick has recently enjoyed a remarkable revival via the rewind way. Fresh VHS releases of Sukenick's signature style of beyond-bizzare, no-budget cinema were initially offered up by video vindicating stalwarts Massacre Video with radical re-issues of ALIEN BEASTS and MUTANT MASSACRE 2, which have been followed by limited edition home video releases from Horror Boobs (TOXIC RETARDS), SRS Cinema (SPACE PSYCHOS), Sick Slice Cinema (SUKENICK SUPERCHUNK), and Saturn's Core Audio & Video (BLOOD BOY) just to name a few.
Cue Poser Rot Productions. They've already entered the far out realm of rewindable Sukenick editions with their previous offering: a Sukenick docu-fiction flick called STAMP KILLER. But Poser Rot's back at it again and ready to boogie woogie on your brain with some more of Sukenick's certifiable shot-on-video insanity, this time offering up a limited VHS release for a Sukenick double-feature spewing forth 130 minutes of unadulterated homemade movie madness.
A look at the VHS package for LESBIAN BEASTS 5000 / THE SICK SEX MUTANTS FROM SPACE. Great stuff in this video, Tapeheads. No VHShit.
LESBIAN BEASTS 5000 / THE SICK SEX MUTANTS FROM SPACE will be available via the Poser Rot online shop starting at 11AM EST on 3/24. It's limited to just 25 copies, so clickity-click here to grab that slab before they're all gobbled up, Videonauts!
Here's the official description from POSER ROT with all the details:
Poser-Rot Cannibal Video Present: CARL J. SUKENICK'S: LESBIAN BEASTS 5000 AD / THE SICK SEX MUTANTS FROM SPACE A Sukenick Double Feature ripped from Betacam SP and revived from 2001. This film has been unreleased until now with a new soundtrack by Cody "Cannibal" Brant under the instruction of Carl. Plot: The madness of Carl J. Sukenick continues with more Black Scorpion Terrorist Organization unleashing zombies and radiation storms. Only Carl and the DOD can stop them! Get ready to hit that fast forward button!! VHS: 25 Edition (Only) Included is a 3 photograph pack of Carl Sukenick's negative and slide archives printed on gloss paper. All packs will be different and at random selected from 9 different photos. Running Time: 130 minutes pro-dubbed in SP-Standard Play. Ready to warp your gourd with more Sukenick-soaked shot-on-video lunacy? We thought you were, Videovores. Grab it that slab HERE, and don't say we didn't warn you, dude.
Groove and Groove and Don't VHSnooze.
Josh Schafer
---