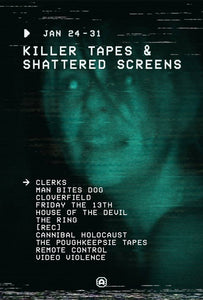 KILLER TAPES AND SHATTERED SCREENS Brings a Week of Home Video-Driven Screenings to Alamo Drafthouse Yonkers for the Last Week of January 2018!
Rewind-inclined minds residing in Yonkers, NY and VHSurounding areas are in for a special set of home video-driven screenings throughout the last week of January courtesy of Alamo Drafthouse Yonkers and the combined programming inclinations of two avid video aficionados Justin LaLiberty and Caetlin Benson-Allott. Running from January 24th until January 31st, KILLER TAPES AND SHATTERED SCREENS is a screening series based on Benson-Allott's book of the same name, aiming to celebrate and inspire conversation about viewer's (and horror in general's) relationship to video, in all of its many manifestations. Tickets for all of the events are currently available HERE via Alamo Drafthouse's website.
The official poster for KILLER TAPES AND SHATTERED SCREENS! Tickets available HERE, dudes!
For a better understanding KILLER TAPES AND SHATTERED SCREENS' core concept, here is a synopsis of Benson-Allott's book: "Since the mid-1980s, US audiences have watched the majority of movies they see on a video platform, be it VHS, DVD, Blu-ray, Video On Demand, or streaming media. Annual video revenues have exceeded box office returns for over twenty-five years. In short, video has become the structuring discourse of US movie culture. Killer Tapes and Shattered Screens examines how prerecorded video reframes the premises and promises of motion picture spectatorship. But instead of offering a history of video technology or reception, Caetlin Benson-Allott analyzes how the movies themselves understand and represent the symbiosis of platform and spectator. Through case studies and close readings that blend industry history with apparatus theory, psychoanalysis with platform studies, and production history with postmodern philosophy, Killer Tapes and Shattered Screens unearths a genealogy of post-cinematic spectatorship in horror movies, thrillers, and other exploitation genres. From Night of the Living Dead (1968) through Paranormal Activity(2009), these movies pursue their spectator from one platform to another, adapting to suit new exhibition norms and cultural concerns in the evolution of the video subject."
Benson-Allott's book, which is available via AMAZON. Read up, Tapeheads!
KILLER TAPES AND SHATTERED SCREENS will feature 11 different screenings of films which are somehow connected to the essence of home video, each with their own specific influence and importance. Some of the titles included are Kevin Smith's convenience / video store classic Clerks, the rarely-screened found footage serial killer flick The Poughkeepsie Tapes, video store rental essential Friday the 13th and the ultimate video store horror story (and absolute LUNCHMEAT favorite) Video Violence which will be screened directly from VHS, provided by the Lunchmeat Archives! Here's a look at the official trailer for KILLER TAPES AND SHATTERED SCREENS: Tickets for this week-long set of screenings are available as we VHSpeak via the Alamo Drafthouse Yonkers site. Groove on over and secure you seat to experience these home video-driven pieces of cinema on the big screen. And don't forget to grab some groovy grub and a beer or five, dudes.
Groove and Groove and Experience Home Video History.
Josh Schafer
---