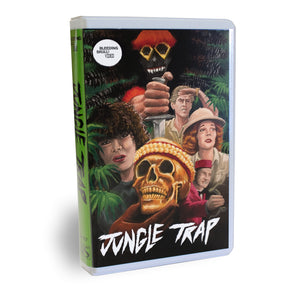 MONDO and BLEEDING SKULL! VIDEO Bring Previously Unseen Shot On Video Obscurity JUNGLE TRAP to VHS and DVD!
If you're inclined to roam the world of fresh VHS, you'll likely know the rewind-minded team of Mondo and Bleeding Skull Video from their radical VHS re-animations of obscure trash cinema such as Cards of Death, The Soultangler and Scary Tales among others. But the newest collaboration between these two impressive entities is perhaps their most ambitious and exciting analog-driven project to date: they've unearthed the previously unedited, unscored and completely unseen shot-on-video mind-melter JUNGLE TRAP, and are bringing it to home video for the first time ever. This is an unprecedented kind of project for the Bleeding Skull crew, as they've employed their talents to edit and score this previously unfinished film, pulling it from the pit of oblivion, and offering it to the eyes of weird cinema fans everywhere. And that's pretty groovy, man. Mondo and Bleeding Skull! Video are set to release JUNGLE TRAP on Limited Edition VHS and DVD (if you're into that sort of thing!) on 7/26/17 at 12noon CST on the Official Mondo site.
Here are the details on the release, along with a look at the sweet, sweet slab of rewind re-animation.
The JUNGLE TRAP VHS release from Mondo and Bleeding Skull! Video. MMMMGIMM'MEDAT.
Jungle Trap VHS & DVD: Directed by James Bryan. Artwork by Chris Bilheimer. 72 minutes / 1990 /2016 / Color. Includes fold-out poster, making-of documentary, and Bleeding Skull! Video trailers. VHS $25 / DVD $15 – Available HERE. Shot in 1990 and unreleased until THIS VERY MOMENT. The final collaboration between exploitation demigods James Bryan (DON'T GO IN THE WOODS) and the late Renee Harmon (FROZEN SCREAM), JUNGLE TRAP is a decapitation-fueled, shot-on-video horror masterpiece about a jungle hotel haunted by kill-crazy ghosts in loin cloths. The movie remained unedited, unscored, and unseen by human eyes for over two decades . . . UNTIL NOW. Under Bryan's guidance, the Bleeding Skull! team meticulously edited the movie and recorded a soundtrack utilizing vintage 1980s synthesizers. For the first time ever, Bryan and Harmon's raging slab of anti-sanity can be deeply enjoyed by the world's most adventurous viewers. That's you. Also, the all-new, original score for JUNGLE TRAP which was written and recorded by Taken By Savages, will be available on limited edition LP via Death Waltz Recordings, pressed on Jungle Green vinyl with Blood Splatter accents. These are limited to 500 pieces, so groove to the Official Death Waltz site and get down on it, dudes. Mondo and Bleeding Skull! Video are doing some the most righteous rewind work in the fresh VHS sphere, so be sure to stay tuned to their social media HERE and HERE to stay updated on all their future endeavors. It's gonna be some wild VHShit, no doubt.
Groove and Groove and We'll Eat You Up.
Josh Schafer
---