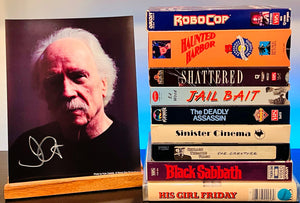 John Carpenter was Selling Mystery Boxes of His VHS Collection. Here's a Look at What Came in One of the Boxes. [EXCLUSIVE INTERVIEW]
By Josh Schafer / Ted Gilbert
On April 13th, 2022 legendary filmmaker, composer, and genre favorite John Carpenter announced he was selling off his entire VHS collection. The news was met with an abundance of awe and wild enthusiasm, and the limited number of 10-tape mystery boxes (which also came with a signed photo of Carpenter) were VHSnatched up like everyone was in fast forward. Even with an $80 price tag, it's easy to imagine why this sale caused such a fervent stir; few figures are as universally admired by horror and sci-fi collectors far and wide, and it's not every day that someone as influential in the field as John Carpenter publicly parts with something so closely associated with his craft. Ultimately, it's an amazing rewind-inclined opportunity to own some of Carpenter's VHS tapes.
Some of the boxes have since been posted up online, but we here at LUNCHMEAT wanted to dig a little deeper, and explore not just the content of the box, but the reaction of one lucky Tapehead who was able to grab some tapes pulled directly from John Carpenter's VHShelf.
We caught up with fellow Videovore Matt aka @Matts_Mortuary on Instagram, and he was kind enough to detail his experience with one of the most improbable and incredible VHS grab bag buys of all-time…
Tell us a little about yourself and your Tapehead inclinations…
My name is Matt. I'm a Los Angeles-based writer, editor and filmmaker by day and a crazed horror-fanatic/Tapehead by night. I started rebuilding my tape collection back in 2015 when I strolled into the local goodwill and found a copy of Gremlins 2 - one of my favorite films of all time. After that I just started growing out my collection little by little. I was inspired to take my tape collecting to the next level when the Bearded Lady Mystic Museum in Burbank opened up their Slashback Video exhibit. Seeing all those spines and eye-catching vintage covers arranged so nicely together definitely got me to beef up my own shelves and expand the personal archive.
You were pretty quick on the draw for these – where did you see the post?
I saw the post on John Carpenter's Instagram page which I follow pretty closely with post notifications, alerts etc. to make sure I never miss out on any local signing opportunities or random sale drops (such as this one).
What made you pull the trigger on these? Are you a big Carpenter fan?
Anything John Carpenter is a no-brainer for me. He's absolutely my hero. I listen to his film scores while I work on a daily basis and I've watched and studied his filmography obsessively for the last several years. From his body of work to his personality, he's just the coolest guy and a living legend. Truly the GOAT.
There was a lot of buzz about this sale and got a lot of traction online. What did it feel like to be an active participant in that excitement and what were your expectations on the purchase?
To be honest, I was surprised how much "buzz" I noticed about this sale post outside of my immediate bubble of like-minded Carpenter fanatics. I think it just goes to show how much VHS collecting has really taken off these last couple of years. I was obviously excited to receive the tapes, but I wasn't crossing my fingers for any 80's horror mainstays.
I think the thing a lot of horror collectors may not realize about Mr. Carpenter is that a lot of his personal taste in film is derived from Howard Hawks movies, westerns and classic comedies. I knew when I ordered this I wasn't going to receive a box of CHUD, Street Trash and Monster Squad. And frankly that's good. It's a little window into his interests and inspirations.
Did the tapes come with any sort of authenticity marker or anything of that sort? Was there any handwriting on any of the tapes? Or anything that sticks out for you?
There was no handwriting on the tapes but I did notice that a couple of them came from some sort of vintage "mail away" program like Sinister Cinema or "Chiller Theater Video." To me the fact that they came from his personal web store and included a hand-signed photo is proof enough. I have plenty of Carpenter signatures in my collection and the one included with these was an exact match.
Now that you have the tapes and spent some time with them, how do you feel about it? Are you happy with what you got? Was the price worth it?
Heck yes! You have to think that an autograph alone is worth upwards of $40. And then on top of that, a couple of the tapes themselves had a bit of value. Plus, it was just fun to open the box. You're paying for the grab bag experience and getting to own tapes from a legend. He also shared my photo of the tapes I received which was pretty awesome.
What's your favorite tape(s) from the box? What was the most surprising or unexpected tape?
I personally think it's very cool that I'm now the proud owner of John Carpenter's copy of Robocop. That said, I think my favorite item from the pile was Mario Bava's Black Sabbath. That's an anthology film from the 60's starring Boris Karloff which really paved the way for Creepshow, Body Bags and a lot of stuff which came after it. There's some downright disturbing imagery in that film that still sticks with me to this day. Highly recommended.
What's next for these tapes? You plan to watch them? Is it exciting to you that these tapes likely ran in John Carpenter's VCR? Do you have any plans to display them in a VHSpecial way?
I'm definitely going to watch them. Probably prioritizing those "mail in" Chiller Theater flicks which I haven't seen. It is exciting that John watched them. I wish he had a Letterboxd or something so I knew what he thought of them. Unsure how I'm going to display them yet but I do want to keep them separate from the piles of tapes I've gotten at [the] thrift.
Is there any other celeb or director you'd like to see do a VHS box like this?
Quentin Tarantino without question. I know for a fact that he bought out the entire inventory of the video store he used to work at (The Video Archives) and has a massive tape collection inside his house. I'm not sure he'd ever want to part with any pieces of his collection but I'd absolutely love to own one of his tapes someday. He's right up there with Carpenter as one of my all-time favorite filmmakers and I go watch old movies at his New Beverly Theater on a weekly basis.
Anything else you'd like to add?
Thanks for spreading the VHS love! If people want to see more of the tapes in my collection they can find me at @Matts_Mortuary on Instagram.
Thanks for being here with us, Matt! We're VHStoked to see you so happy with this stack of slabs from Carpenter's archives! We do have to say, Black Sabbath does totally rule, and honestly, so does this whole VHScore. And, for real, what a story. What do you think, Tapeheads? Worth the price for the experience and the history attached to these home videos? VHShout it out in the comments and let us know!  
---