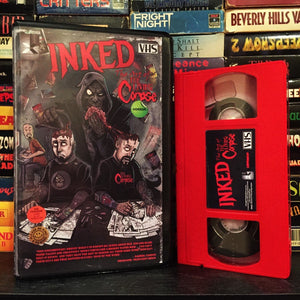 LUNCHMEAT Proudly Presents the Comic Book Documentary INKED: THE ART OF THE LIVING CORPSE on Limited Edition VHS! Click the link for Info on How to Score Your Slab!!
Fans of bodacious brain-munching zombie comic books, this slab's for you! LUNCHMEAT is absolutely VHStoked to collaborate with X Knight Productions and The Living Corpse Crew to present a limited edition VHS release of INKED: The Art of the Living Corpse: a 35 minute independently-produced documentary detailing the complete history of The Living Corpse comic created by Ken Haeser and Buz Hasson! This limited VHS edition is currently available as a reward on the The Living Corpse: Relics Kickstarter campaign (and only three bundles remain!) so you best groove on over and support those totally radical dudes in The Corpse Crew so they can bring their gnarly new mess of blood-soaked pages into your view! You can get a look at the full Kickstarter details and information on The Living Corpse comic RIGHT HERE, and get a peek at what they're aiming the achieve by peeping their Kickstarter trailer just below…
But wait! What happens when those bitchin' VHS bundles are sold out, dude?! Fear not, fellow Videovores! We've got you covered! Lunchmeat has 15 copies (of the limited to 30 run) ready to roll into your VCR via our official VHStore for just 20 bones! Once these 15 copies are gone, they're total VHiStory, Tapeheads!
The Limited Edition LUNCHMEAT VHS release of INKED: THE ART OF THE LIVING CORPSE! Other groovy tapes not included, dude!
Each VHS edition of INKED comes committed to a radical blood red videocassette housed in a large black clamshell with full color artwork complete with an exclusive kiss-cut Living Corpse sticker. And as an extra-special bonus, the back of the artwork will also include a hand-drawn sketch directly from the hands of The Living Corpse creators! Some original, exclusive art and a totally killer analog slab featuring insight on passionate comic book creation? Dig that six feet deep, man.
This kiss-cut sticker and the back of the VHS for INKED: THE ART OF THE LIVING CORPSE featuring the original sketch! Each one is unique, Tapeheads. Grab the slab HERE.
So what are you waiting for, Videovores?
Clickity-click this here hot, hot, hot link
and support some of the coolest ghouls in contemporary horror comics. And remember: if you can't get yer claws on a VHS copy via
The Living Corpse: Relics Kickstarter,
just groove your VHS-lovin' caboose over to the
Lunchmeat store and snatch yourself up one super-groovy limited edition VHScore.
NO BRAINS, NO GAIN!
Groove and Groove and I Just Wanna Party.
Josh Schafer
---