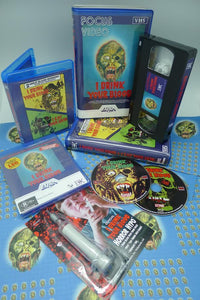 Aussie Label EX-Film Teams with Grindhouse Releasing to Create a Limited Edition Fresh (PAL) VHS Combo Pack for I DRINK YOUR BLOOD! Available Now!
If you're looking for some fresh VHS thunder from down under, the analog-inclined Aussie releasing label Ex-Film deserves your undivided attention. You may recognize this brand from previous posts here in Lunchmeat Land as Ex-Film has laid some fantastic specimens of cinema to tape like Mike Malloy's Eurocrime documentary and the cult favorite rarity Act of Vengeance AKA Rape Squad. This time, Ex-Film is ready to invade your VCR with an absolute essential piece of drug-laced, psycho-hippie horror mayhem with David E. Durston's 1970 exploitation classic I Drink Your Blood! Presented in conjunction with the groovy dudes at Grindhouse Releasing, this fresh VHS release for IDYB comes with the first-ever Blu-Ray release for the film as a package deal. And what a fantastic package it is, Videovores! Here's a look at the full release from Ex-Film just below…
The whole VHShebang for I DRINK YOUR BLOOD from Ex-Film / Grindhouse Releasing! We all need this, man.
This limited edition bundle is jam-packed, Tapeheads, and comes with some the most outrageously rad extras we've seen in quite some time. Take a look below for the complete list of features and extras attached to this deluxe release from Ex-Film:
*BLU-RAY
: 2 BD discs (1x BD50 and 1xBD25, Region B), reversible artwork, standard Bluray case.
*VHS
: Contains the infamous double-bill of I DRINK YOUR BLOOD and for the first time on Australian home video, I EAT YOUR SKIN. E-180 cassette with full-colour labels and reversible artwork housed in an original 1980s dead-stock Focus Video clamshell case.
*LSD BLOTTER ART
: A full uncut sheet of LSD blotter art featuring the legenadry artwork for I DRINK YOUR BLOOD.
*HORROR-HYPO
: Official hypodermic needle! Infect your friends with rabies and create your own rabid zombies.
VHS BUNDLE IS A STRICTLY LIMITED EDITION OF 100 COPIES! NOTE: VHS IS PAL FORMAT - PLEASE ENSURE YOUR VCR CAN SUPPORT THE PAL SYSTEM! PLEASE ALSO NOTE: LSD BLOTTER ART HAS NOT BEEN SOAKED IN ANY ILLICIT SUBSTANCES AND IS PRESENTED HERE AS AN ART ITEM!
We believe you, dudes! Let it be known that Satan was an acid head, and that this fresh VHS release combo pack from Ex-Film is just about as bad-ass as it gets! This edition is available as we VHSpeak, so
clickity-click this here hot link
and secure your slab of
I Drink Your Blood
before they're all gobbled up, man! And one more time: THAT BLOTTER SHEET!
Groove and Groove and We're Inside Having a Guh-RoOoOOvy Time!
Josh Schafer
---