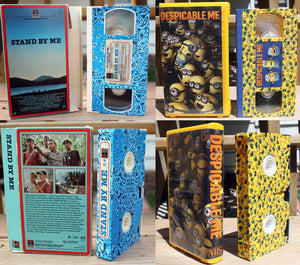 Check Out This Collection of CUSTOM HYDRO DIPPED VHS Crafted by Fellow Tapehead Tyler Bell!
The radical world of custom VHS casings is expanding at an eye-popping rate. Just take a peek at the #spoolswap hashtag on Instagram, and you'll be able to soak in a spectrum of custom color-coordinated and blood-spattered tapes from Videovores of all inclinations and tastes. Yes, the more creatively-inclined VHS'ers are using that tried and true spool swap technique to switch and ditch those standard black slabs in exchange for a colorfully custom casing to house their favorite reels of magnetic magic, and it totally rules.
Take for instance, this here Leprechaun 3 gold and green custom composite shell, which is now an undisputed video treasure. And the method is totally accessible: if you're not already familiar with this relatively easy technique, just click this here hot link for a groovy tutorial from Warlock Video and Lunchmeat, and you'll be on your way to crafting some sexy custom slabs of your very own! But it's fellow Videovore Tyler Bell who's taking the custom VHS game to another level with a technique called hydro dripping, and the results are nothing short of spectacular. Read on, my fellow Tapeheads, and get ready to dip those tapes into something else besides that VCR…
Bell's super VHSexy analog edition of the 2015 film EMBRACE OF THE SERPENT. Just fantastic, man.
Can you tell us a little about yourself and your Videovore habits, man? What's been in your VCR lately?
I'm just your average tape enthusiast from Iowa. Lately, I have been into Paragon slip releases, and I'm always on the lookout for a Thorn I need or Genesis Home Video. What's made it into the VCR lately? A lot AIP and PM Entertainment stuff!
Bell's tri-color spool swap with blood splatter for an absolute classic. This is one mean VHS!
Bring on that radical action insanity, man! So, how did you get into VHS customization? Do you have an artistic background?
I was doing a few things with case swaps using colored tapes. Someone brought this technique up and I thought it was worth a shot. I do have an artistic background… In part, I retail products of my own design. But, hey, I'm here to talk about tapes!
Another tri-color, blood splatter spool swap from Bell. Gotta love that lenticular cover, dudes.
Fair enough, duder! What were some of the first tapes you customized? Any particular inspiration behind them?
I've done custom covers and swaps with colored shells, like Warlock Video's candy corn tri-color shell! The film to do these dips is available in sample packs of mixed designs. So, basically, I am just trying to create good mash-ups of shell to theme. I do have some pre-meditated designs I am working on, though! These are from the first batch of dips, so they are not perfect by any means. The Freddy variant I like a lot because it's similar to his chest of souls, and the orange gate meshes with the slip spine, too.
This slab just slays, dude. Nothing beats a VHSkull.
Yeah, these hydro dripped tapes are outrageously cool, man. Can you tell us more about that process?
Hydro dipping is a process that uses pre-printed designs on a film that can be applied to any number of surfaces using water. Takes some prep work, some supplies, and practice to get a good transfer. It can be done with spray paint, as well. I'd recommend checking out some YouTube videos… much better to see the process to understand it.
A custom for an all-time personal favorite in STAND BY ME, and an absolutely ridiculous but gotta-love-it dip for DESPICABLE ME. All those little minions, man! Too good.
Can people do this at home? Are you taking commissions right now, or just making them, and then offering them up to the Tapehead masses?
Yes, it can surely be done by anyone. And I hope others try and get creative - lets see what they come up with! I'm not really thinking to take commissions at the moment. I'm more open to doing some batches and offering blanks for others to use in their projects. For now, it's easier and more fun to just come up with something creative as I like.
Bring on more of these PM customs! Just when you thought HOLOGRAM MAN couldn't get any better.
What's next for you, dude? Which killer custom are you going to create next?!
I don't really even know myself! Well, I will be doing some blood splatter shells… beyond that lets see what scraps are sent to me to work with. Also, a couple of top secret projects, I prefer to show and not tell!
This one's not quite put back together just yet... but when it is... she will be mine. Oh, yes, she will be mine. MYYYYYYY BOOOYS!!
Anything else you wanna shout out to all the Tapeheads here in Lunchmeat Land?
There is a lot of cool original art coming out of the VH-in-Spired world! I did want to mention Tony Agosta of Emesis Art who lent his killer art skills to the wood grain Mother's Day shell (seen above!). He does badass paintings inspired by horror movies. There is some good video content coming out of the VHS Facebook groups (looking at you, Nicholas Mears). But I think we call all agree that what the Marijuana VHS Kid is doing with defecating on Disney tapes is next level. Donovan, if you are reading this please hydro-dip a turd!
Now THAT would be some next level VHShit! It seems the creativity of the Tapehead community knows no bounds, man, and we can't wait to see what Tyler cooks up next. And speaking of, we wanna ask YOU! What kind of custom VHS are YOU working on, Tapeheads? We'd love to VHSee'em! Send 'em on over to TheButcher@LunchmeatVHS.com or just tag us on VHSocial media, and we'll feature the raddest and baddest, dudes! Bring on those killer custom slabs, Tapeheads!!

 

 

 

 

 

Groove and Groove and We Want Scented VHS.

 

 

 

 

 

Josh Schafer
---