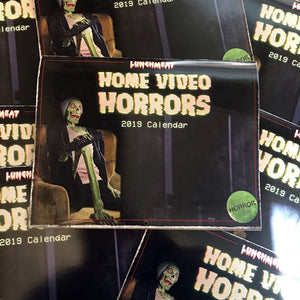 The HOME VIDEO HORRORS 2019 Calendar is Now Available for PRE-ORDER! Get Rewind Radical All Year Long in 2019, Tapeheads!
It's back in analog action, Tapeheads! And it's all set to help you get rewind radical every single day of the dang year come 2019! YES! LUNCHMEAT and photographer extraordinaire Jacky Lawrence are proud to present an all-new HOME VIDEO HORRORS calendar for 2019 featuring 12 brand spankin' new photo tributes to some of the most iconic, incredible and eye-popping VHS covers ever to stalk the horror section of the video store! And they're available for PRE-ORDER right now, just by clicking this here hot, hot, hot link! Go ahead! Click that VHShit, dude! You know you want to.
WHO'S THAT?! Looks like HOME VIDEO HORRORS has a newly dead host ! He smells a bit, but he's got a heart of analog gold.
HOME VIDEO HORRORS is a visual love letter to the greatest VHS covers in the horror genre, featuring the phenomenal photography of Jacky Lawrence. Each month of the calendar vibrantly celebrates a different VHS from the horror shelf, thoughtfully set in a scene reflective of the film's signature content!
It just won't stay dead! The HOME VIDEO HORRORS 2019 Calendar kicks off the New Year with an absolute classic!
And get this: we've VHSouped up the date grid yet again this year'round, and jam-packed it with even more groovy celebration indications including Donut Day, National VCR Day, Twilight Zone Day, International Video Store Day – and of course, reminders for essential actors and dominating directors birthdays! Dang! Even more reason to celebrate!
We hope you're hungry! March features a favorite here in LUNCHMEAT Land, VHSure to appease any Videovore's appetite! CHOMP!
The HOME VIDEO HORRORS 2019 Calendar measures approx.. 8.5 x 11 inches closed, and 17 x 11 inches opened and is printed on high-quality, full-color semi-gloss paper.
Wolfman DOES have nards! And he's also featured in our favorite month of year! Creature not pictured. He was out stealing Twinkies.
PRE-ORDERS are live RIGHT NOW via the Lunchmeat VHStore, so groove on over and secure your ticket to the most radical Tapehead calendar that ever did exist, duder! *NOTE* PRE-ORDERS end on November 24th. Orders will begin shipping on Dec 1st. You can see all of the months on the store, dudes! Just CLICK HERE! Oh, and this just in: We have confirmation from VHSanta himself that this calendar is one of the raddest, baddest, too groovy gifts you can purchase for the Videovore in your life. So, groove on over and grab this bad boy and VHStuff that stocking rewind right! DIG IT!
Groove and Groove and Press Play All Year Long, Dudes.
Josh Schafer
---