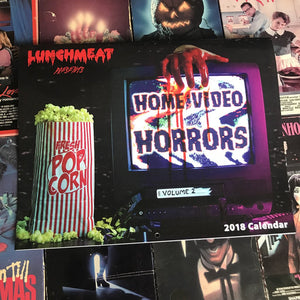 HOME VIDEO HORRORS VOL 2 12-Month 2018 Calendar from LUNCHMEAT and Photographer Jacky Lawrence is NOW AVAILABLE! Limited to 100 Copies!
It's here! It's here! And just in time for the New Year, Tapeheads! LUNCHMEAT and photographer extraordinaire Jacky Lawrence proudly present HOME VIDEO HORRORS VOL. 2: an all-new 12-month, full-color calendar for 2018 collecting an eye-popping selection of the most spectacular slabs of cult VHS horror ever to stalk the video store! AVAILABLE NOW via THIS HOT LINK!
HERE IT IS, MAN! HOME VIDEO HORRORS VOL. 2 is available HERE and NOW!
Featuring the phenomenal photography of visual artist Jacky Lawrence, each month vibrantly celebrates a different VHS video cover, thoughtfully set in a scene reflective of the film's content!
That's one meaty meal, Tapeheads! Dig on BLOOD DINER? YOU MAY! GET IT?!
The date grid for each month is also pumped up with a bunch of too groovy celebration indications for an array of special days ranging from National VCR Day to Tortilla Chip Day to Elvira's Birthday! What's more, there's a sweet chunk of home video and horror-driven trivia attached to each month! DIG ON IT!
Even some fried egg eyes can appreciate this photo, man! GRAB IT HERE!
The HOME VIDEO HORRORS VOL. 2 calendar measures approx. 8.5 X 11 inches closed and 17 x 11 inches opened and is printed on high quality, full-color semi-gloss paper.
10 Years of LUNCHMEAT in August 2018?! You know how we do.
FIRST PRESSING LIMITED TO 100 PIECES! So what are you waiting for?! Grab one on the LUNCHMEAT VHStore before they're all gobbled up, Videovores! That empty wall space next to all your tapes is just beggin' to be covered with this calendar! Celebrate the gory glory of horror home video and VHSave the date all year long, Tapeheads!
Groove and Groove and Do It All Year Long, Dudes.
Josh Schafer
---