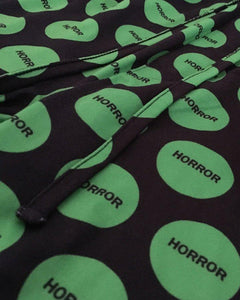 Radical Rewind-Inclined Threads: The HORROR STICKER LOUNGE PANTS from FRIGHT RAGS!
Frequent video store patrons are apt to remember it fondly: that little green horror sticker stuck on the front of our favorite fright flicks at the local video rental spot. Over the past year or so, this little green guy has made a real comeback, mainly by way of rewind-inclined apparel and flair outfits. Chicago's CREEPY COMPANY produced stickers, enamel pins and even a turntable slip mat paying tribute to these essential slime-colored circles, helping to turn this seemingly simple piece of home video rental history into a highly potent symbol of VHS era nostalgia. Another groovy instance of horror sticker celebration came from the heavy-hitting horror brand FRIGHT RAGS. Earlier this year, they served up a pair of horror sticker socks, delighting horror-loving Tapeheads and amping up their personal VHStyle. And now, Ben Scrivens and his FRIGHT RAGS brand are ready to add even more to your rewind-driven relaxation wardrobe with a pair of most righteous horror sticker lounge pants, man!
The full look of the HORROR STICKER LOUNGE PANTS with some radical slabs in the back. YO! 5 SECOND RULE!
Here's some more info, directly from FRIGHT RAGS: Our custom-made LOUNGE PANTS are NOW AVAILABLE! Spend the holidays hanging out, watching your favorite horror movies in these cool and comfy Horror Sticker LOUNGE PANTS! Available in S-XL. Grab 'em while they last!
A detail shot of the HORROR STICKER LOUNGERS from FRIGHT RAGS. Man, it RULES that these are a reality.
These
horror sticker loungers
are available in sizes S- XL, but are said to be pretty roomy as noted on a recent FRIGHT RAGS social media post. They'll run you $22 plus shipping. Not too bad for some totally rad threads perfect for your next VHS and Chill session, eh, Videovores?! You can access all of the exact sizing details and link to buy by
clickin' this here hot link!
VHSlip 'em on get down on some well-deserved, rewind-driven relaxation, man. You know we can dig it.
Groove and Groove and Pass Those Nachos, Dude.
Josh Schafer
---