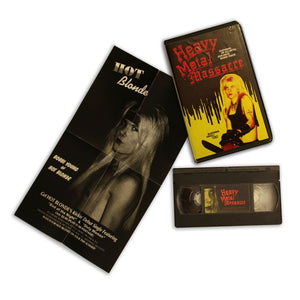 Shot-on-Video Rarity HEAVY METAL MASSACRE Returns to VHS in a Limited Edition via Mondo and Bleeding Skull Video! Order Info and Exclusive Material!
Over the past couple of years, those radical rewind-inclined dudes you know as the Bleeding Skull! Video crew have certainly cemented themselves as one of the finest purveyors of trash cinema re-animations.
They've piled up a formidable stack of black plastic and magnetic magic,
rightly adored by Videovores with a penchant for the most outrageous and obscure no-budget cinema unknown to man. And now,
on Friday December 9th at 12 Noon CST,
Bleeding Skull! Video is back with an act of video vengeance, again teaming up with Mondo Video, ready to unleash another slab of absolute insano, smash-your-brain-o cult trash cinema with the ultra-scarce 1989 hair and leather mind-melter
Heavy Metal Massacre.
Here's a look at the official teaser trailer from BSV! and Mondo below, Tapeheads….
An intentional self-cockblock and some blood-soaked street alley chainsaw death sure are enticing, but if you're looking to know a little more about the story behind this totally incredible videotape trashterpiece created by David De Falco AKA Bobbi Young, Lunchmeat is VHStoked to offer a few exclusive choice excerpts from an essay (which will accompany the Heavy Metal Massacre release) written by BSV's Zack Carlson on the entire experience of unearthing this project…. From ZACK CARLSON: " …Young secured a camcorder and enlisted his cousin Steve and their friend Ron to create the most chilling horror film in glam metal history. He penned the script himself, and secured both of the movie's locations. Locals agreed to play the few speaking roles, and Satanic images were painted on concrete floors. At this point, there was nothing left to do but massacre. Production wasn't easy. Bobbi and Steve bickered on set and the unpaid cast and crew were less than reliable. But Young soldiered forward. When they needed an ambulance for a scene, he called 911 and reported a fatal accident, then covertly taped the emergency vehicles as they arrived on the scene and searched for a corpse… … Almost a decade later, Young (now operating under his real name, which we have respectfully excised from this essay) had ditched his gargantuan hair and eyeshadow and grown into a heaving mass of masculine flesh. He interrupted a wrestling career to return to film as a producer of children's horror titles for schlock mogul Charles Band… … It was during this time that a rising tide of VHS collectors began searching for the impossibly rare Heavy Metal Massacre, a film that Young had hoped would remain forgotten forever… …When I'd ask him any questions that related to that era, he'd become intensely focused on his physical appearance in the film, how he was "such a skinny fucking little glam geek back then" and how "no one would ever believe he's the same person now." He explained that his youthful, powerful appearance today can be attributed to the fact that he has vampire blood, and he also casually mentioned that he is not afraid to die…" And if you that got your motor runnin', man, you ain't read nuthin' yet!
A peek at the VHS re-issue of HEAVY METAL MASSACRE from MONDO / BLEEDING SKULL! VIDEO! Too VHSexy, dude.
Unlike the majority of previous Bleeding Skull / Mondo Video collaborations, this release is only available on VHS. Why? Because that's the way Bobbi Young (who may or may not be resident of this galaxy) wanted it… Or as Bleeding Skull so succinctly puts it, "Bobbi Young does not do what Bobbi Young does not want to do." Note taken. The VHS comes with a fold-out HOT BLONDE poster (seen above), a copy of "The Search for Bobbi Young" essay by Zack Carlson, and will come housed in large black clamshells wrapped up in all-new artwork. This release is strictly limited to 250 fresh VHS copies,
available Friday, December, 9th at 12 Noon CST via the official Mondo
and
Bleeding Skull
sites. Set your rewind watches, Tapeheads, and keep those analog-inclined eyes glued. This staggering slice of heavy metal home video re-animation is sure to vanish quicker than a plate of white china at a vintage Motley Crue show, dude.
Groove and Groove and Obey the Hair.
Josh Schafer
---