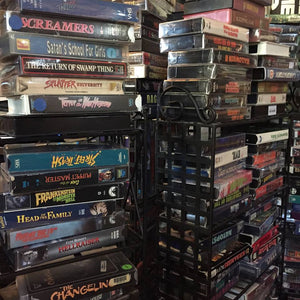 GRAVEFACE RECORDS in Savannah, GA Ready to Unleash VHS Rental Section for Their 6 Year Anniversary!
The rewind-minded peeps in the Savannah, GA area in need of some righteous horror, exploitation and genre video rentals, it's time to rejoice. This Saturday, October 21st at 5PM, GRAVEFACE RECORDS AND CURIOUSITIES are ready to unleash some radical racks of VHS rentals ready to invade your VCR. The video rental section for GRAVEFACE was first mentioned in an interview with shop proprietor Ryan Graveface here in LUNCHMEAT Land back in January of 2016, and now with over a year's worth of VHSweat, blood, and stacking flicks of fear, this fantastic analog-inclined initiative is coming to fruition. And that's pretty groovy, man.
A peek at the VHSelection coming to the rental racks at GRAVEFACE in Savannah, GA. Two copies of SCREAMERS? Double dig it, dude.
Here's the full info direct from GRAVEFACE RECORDS on the launch, which also coincides with their 6-year Anniversary: "Hey fiends! I haven't really made a big deal out of it but we're doing a soft open of our new space during the 6th anniversary block party this Sat from 5-10pm. The Graveface Annex is just an extension of our record shop but it has a separate entrance and ultimately will have somewhat limited hours. There are no records but instead many other things I collect (dead shit, horror stuff, toys etc). Also in the annex will be our VHS rental shop. That idea has been a long-time coming so we're very excited to finally bring it to you. Stop on by Saturday to see 6 awesome bands, grab records for cheap (flash sales all night) and dig in to our new space. See yall then - Graveface Records & Curiosities" You can RSVP to the event and get more insight via Facebook with this here hot link. Just click it, Tapeheads! Another radical video rental destination? You know we can dig it. GRAVEFACE, we here in Lunchmeat Land VHSalute you!
Groove and Groove and Let The Good Times Rewind.
Josh Schafer
---