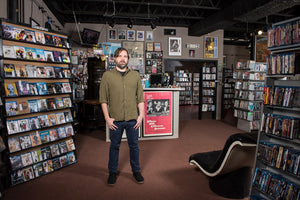 Get to Know VIDEODROME: Atlanta, GA's Last Living Video Store! [EXCLUSIVE INTERVIEW]
By Josh Schafer
With the recent announcement that Family Video will be closing all of their remaining stores, and the fact that there is just one Blockbuster Video left in the entire world (located in Bend, OR and subject of the eye-opening and heartwarming documentaryThe Last Blockbuster), the majority of people might think that video stores are all but a warm, fuzzy memory, gone but not forgotten. But for those who frequent Lunchmeat and all of our rewind-inclined channels, it's known that nothing could be further from the truth.
Across the nation, a small army of independent video stores are fighting to keep that video rental dream alive, and making damn sure that the liberty of choice, plethora of cinema knowledge, and distinct joys found within video store walls will never die, existing as the ultimate anti-algorithm.
Cue Videodrome: Atlanta, GA's last surviving video store, and one of our favorites in the world. And we're absolutely VHStoked to team up with them and offer some exclusive Videodrome threads, only available via Lunchmeat. You can check that out HERE. And now, let's press play, and groove into the absolutely radical video rental destination known as Videodrome.
 Grab the threads HERE.
Videodrome owner and manager Matt Booth has been working in video stores on and off since high school, but in the late 90s, he took a chance with some friends and started their own video rental spot, with the intention to serve those interested in something more than just the latest and greatest home video hits.
Welcome to Videodrome. Photo: Isadora Pennington
Booth explains, "In 1996, I moved to Atlanta and picked up some shifts at a video store chain called Moovies (yes, it was all cow themed - Google it!). Moovies was soon taken over by a bigger chain, Video Update, and I became a manager at the local Little 5 Points location. This was right during the heyday of the industry; there were six video stores in a five mile radius, and Friday and Saturday nights were slammed. Little 5 points was a unique cultural area, and Jeff Sutton, a co-worker, and I started to think about opening our own, less mainstream store to meet the needs of people looking for an alternative to corporate video stores. We started collecting VHS and convinced a local landlord to take a chance on us. We opened Videodrome in the summer of 1998 with a small but curated collection of Independent, Foreign, Cult, Horror, Anime and Documentary VHS titles."
 Matt Booth inside Videodrome.
Fast forward to today and Videodrome runs on a small but dedicated crew of 3 full-time employees and 4 part-time Dromies (we made that word up) who fill in shifts when needed. That core team is bolstered by a supportive community of friends who donate their time and efforts, doing whatever it takes to help keep the store alive.
 The Videodrome crew. Photo: Jordan Jeffares
Within their walls lives a vast world of cinema. Videodrome boasts a rental collection totaling nearly 37K individual titles, with about 30K DVDs and 6.5K Blu Ray discs (and counting). They also offer a small yet thoughtfully curated section of VHS tapes available for purchase. You know we can dig it.
In the 1990's and early 2000's, Videodrome stood as a robust alternative to the corporate stores nearby. As time evolved they ended up as the last video store in Atlanta, and shifted to becoming the local community's video library, which ultimately invited more mainstream titles into their selection. They still bring in mostly independent, foreign, and cult films, but don't shy away from getting a decent amount of Hollywood fare. They're here to quench the thirst of cinema fans of all inclinations.
As for the most popular rentals at Videodrome, here's a list of their top renting titles all-time:
10) GUMMO
9) THE THING (1982)
8) MULHOLLAND DRIVE
7) KIDS
6) HAPPINESS
5) REAR WINDOW
4) HAUSU (HOUSE)
3) BOTTLE ROCKET
2) VIDEODROME
1) SPIRITED AWAY
*ED NOTE – SPIRITED AWAY was also the number one renting disc at Video Vortex.*
That list certainly doesn't represent what you might call mainstream, but then again, supplying an avenue to access cult film is the foundation of Videodrome.
The Official Rental Membership Card of Videodrome. Photo: Sarah Statham
Perhaps the most powerful piece of Videodrome, and video stores all over, is the aspect of human connection. Matt relates, "My favorite thing about the store is interacting with customers and for lack of a better phrase, helping guide them through their film choices. I've made some of my best friends over the years working at the store. I also genuinely enjoy the business part of my job: ordering product, accounting, and planning the events are all challenging and rewarding."
But that connection was abruptly interrupted in early 2020 because of COVID. In response, Booth and the Videodrome team created a system that would make both customer and staff safety paramount.
 Artwork by @tonyrodriguezillustration
Booth explains that transition: "Our Deadly Prey Gallery art show/screening at the Plaza Theatre on 3/13/20 happened right on the cusp of COVID shutdowns, and within a week we had to shut down the inside of our store and move to a takeout-only model. We canceled events, attempted to navigate city, county, and state regulations, and developed all new in-store safety protocols to keep our staff and customers safe. The race to apply for government grants and loans was suddenly on, and the paperwork alone became a second job.
We started an online store and sold more than double the merchandise of any previous year! New Blu-ray and DVD releases were scarce, and it almost felt as if we were reinventing our business on a weekly basis. Plazadrome, the movie screenings we present each month at the Plaza Theatre, moved outdoors as a drive-in. The protests following the murder of George Floyd began, and as revenues dropped even more, we became a neighborhood hub to collect and distribute supplies to protesters. We reopened the inside of the store for browsing on 10/1/20, requiring masks and limiting occupancy, and immediately saw an uptick in revenue. 2020 was both scary and invigorating; we've never worked harder or been prouder of what we provide to the community. We couldn't have made it through without the support of our loyal customers and friends."
 Two satisfied renters safely get their cinema. Photo: Videodrome Staff
The cinema fans of Atlanta responded with an outpouring of support for the store, with a core group of loyal customers keeping Videodrome at about 2/3 of their normal business from March to October. The Drome started taking email and phone orders and put so many COVID precautions in effect, they gained new customers, becoming known as a place that was safe, diligent, and perpetually doing their best to keep their customers healthy.
As one might expect, COVID disrupted the supply and distribution chains from the movie studios. One of their distributors, Vobile, went totally out of business. They were still able to bring in some foreign and independent DVD and Blu-ray releases, but running the store for 8 months without any major studio releases proved to be a challenge. However, they used the lack of new releases as an opportunity to fill in the gaps in their Blu-ray selection.
 A stack of radical re-issues ready for some renting. Photo: Videodrome Staff
Videodrome has also found a way to bring cult cinema to Atlanta beyond their rental selection. They started a monthly series of screenings in conjunction with Atlanta's oldest theater, The Plaza Theatre (plazaatlanta.com), aptly dubbing it Plazadrome. The screenings are generally focused on fun, crowd pleasing films that run the gamut from HAUSU to FACE/OFF to DAISIES. The Plaza Theater was shut down for the first few months of COVID, but soon reopened as a pop-up drive-in in May of 2020. Videodrome and Plaza were able to pull off drive-in screenings of DESTROY ALL MONSTERS, CHOPPING MALL, DEAD END DRIVE-IN, THE BLOB (1988), SHOGUN ASSASSIN, GINGER SNAPS, ACTION U.S.A., AND WHISKEY MOUNTAIN.  If that's not a fun-as-hell line-up, we don't know what is.
 The historic facade of Plaza Theatre, featuring an installment of PlazaDrome.
Before the pandemic, they were able to put on a slew of bigger, event-style indoor screenings with radical partners, screening insane cult fare including HARD TICKET TO HAWAII with TCM Underground, THE DEVIL'S SWORD with The Deadly Prey Gallery, THE TOUGH ONES with Grindhouse Releasing, VIDEO VIOLENCE with Lunchmeat VHS (Hey, that's us!), and TAMMY AND THE T-REX with Vinegar Syndrome.
Videodrome is already cooking up ideas for future events and screenings, but of course that will need to wait until COVID concerns and restrictions are remedied. Then, they can move the cult film fun back indoors.
In the meantime, Videodrome has found radical ways for people to support their store beyond rentals and events. They started an online store (videodrome.tv) in May 2020 and have a received remarkable support. They've reportedly sold more merch in 2020 than ever before, producing T-shirts, prints, stickers, totes, Christmas ornaments, and masks, all of which were designed by local artists and friends including Will Tims (who designed these rad threads), Linda McNeil, Tony Rodriguez, and Mike Germon. They've even partnered with a local brewery, Halfway Crooks, to create a Videodrome-inspired beer, and having it debut at a Halloween parking lot screening of the European cut of DAWN OF THE DEAD. Man, that's making us thirsty.
 Put a little Drome in your dome. Drink it, maAAaAan. Photo: Videodrome Staff
So why is this video store (and the general idea of having a video store) so important to Matt, his crew, and film fans at large? Matt posits, "Just like record stores and bookstores, I believe video stores are still an important part of the retail landscape. They can give customers a more interactive, tactile experience. You can bring a date, wander the shelves with some friends, and interact with the employees of a video store. They also function as a community film library, curating their selection to meet the desires of the local community. Streaming was promised as a giant video store on the internet where a customer was only one click away from the exact film they were looking for.
Strangely, it became the opposite. New releases are expensive, content is fractured between multiple subscription services, and movies appear and disappear in 30-day windows. To get anywhere close to a similar selection of films that Videodrome offers, a customer would need 5 or 6 different subscriptions - and even then, we have many films that aren't available on any streaming service. The content that is available [via streaming] is almost entirely Hollywood made from 2000 on. Streaming has become both frustrating and expensive, and it doesn't seem to be changing anytime soon."
 Another rad stack of cinema offered at Videodrome. Photo: Videodrome Staff
What's next for Videodrome? It's a good question. They'll be in survival mode until the COVID crisis passes, but with the support of their local community, things are looking up. They're currently updating their website, with the intention of allowing customers to browse and place rental orders online. They'll also be adding new merch to their retail store, and as the weather warms up, and it becomes safe to gather again, they'll be conjuring up the coolest cinema-driven outdoor events in Atlanta.
 Image courtesy of @wt_design
Before we VHSign off, we just wanted to share Matt's final thoughts and thanks from this interview, which show a potent mix of gratitude and grief, warmly wrapped in a blanket of solidarity for the video rental world. Take it away, Matt…
"I'd just like to give a shout out to all the video stores who are out there grinding, keeping physical media alive. I'm sure stores like Seattle's Scarecrow Video, Los Angeles's Cinefile Video and Videotheque, Portland's Movie Madness, and Boston's Video Underground have been through a lot in 2020 and deserve your support. If you'd asked me a year ago, I would have said the industry was seeing a bit of an uptick. Memphis' Black Lodge, and Los Angeles' Vidiots were slated to re-open in bigger spaces that included room for screenings and events. Baltimore's newish video store, Beyond Video, was going strong. Alamo Drafthouse was adding a video rental component, Video Vortex, to their new theaters.
Unfortunately, 2020 was a disaster for an industry already on the decline. We lost some great independent stores including Chicago's Odd Obsession Movies, and two important stores in Austin: Vulcan Video and I Luv Video. Strangled by the lack of mainstream releases, the U.S. biggest corporate rental chain, Family Video, shuttered all of its remaining 500 stores. COVID forced people to stay home in 2020 and streaming services had their most profitable year to date. On the bright side, film fandom and physical media enthusiasm seems to be on the rise. Boutique companies like Criterion, Arrow Video, Kino, Shout Factory, Vinegar Syndrome, Severin, Grindhouse Releasing, and many others have taken Blu-ray and now 4K releases to a new level. Weekly, it seems, there are multiple perfect restorations of films from every genre imaginable. I've never watched so many films for the second or third time, and the internet has helped an army of film enthusiasts gain a voice and connect with each other."
Matt and crew, we here at Lunchmeat VHSalute you!  Keep fighting that good fight, friends, and believe there will always be that core group of people that will support this culture. Together, we'll be able to keep the video rental dream alive for generations to come. Here's to never pressing stop.
---