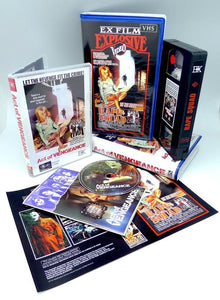 Australian Releasing Label EX-FILM Unleashes ACT OF VENGEANCE and EUROCRIME! on Limited Edition PAL VHS!
Some of the more frequent visitors to Lunchmeat Land are apt to recall a recent rumble of rewind-inclined thunder from down under via the radical crew at EX-FILM with their PAL home video release of ACT OF VENGEANCE aka RAPE SQUAD. If not, be sure to peep the details that superlative slab by clicking HERE because it's one amazing analog edition jam-packed with killer extras that owners of PAL playback machines certainly won't wanna miss, man. Aside from the fantastic presentation and packaging, the liner notes overflow with insight and rare images that are sure to expand your understanding and appreciation of the cinematic beast that is ACT OF VENGEANCE. You can check out the full package from EX-FILM below, and grab your slab by clickity-clicking this here hotlink…
VHSalivating yet, Videovores? Yeah, us, too. Satiate that home video hunger here.
But there's even more if you want to get fully up to VHSpeed on EX-FILM's analog-inclined offerings. That's right, Tapeheads: EX-FILM is already back with another outstanding and absolutely gorgeous limited edition PAL VHS, this time presenting Mike Malloy's critically acclaimed documentary EUROCRIME! in a fully deluxe fashion. If you're not familiar with Malloy's EUROCRIME!, be sure to take a peek at the trailer RIGHT HERE. You're gonna dig it.
The Limited Edition VHS / DVD release of EUROCRIME! from EX-FILM. Too damn VHSexy, man.
EX-FILMS's fresh VHS / DVD release of EUROCRIME! Is limited to just 100 copies, Tapeheads. Here's all of the details on the release, directly from the rewind-righteous dudes at EF: - DVD contents (below) - E180 PAL VHS cassette containing Mike Malloy's EUROCRIME! documentary bookended by poliziotteschi trailers. - 48 page booklet containing liner notes from Mike Malloy and Andrew Nette (www.pulpcurry.com), rare ads from the Australian Italian home video era and an extensive selection of VHS art featuring poliziotteschi films released in Australia during the 1980s. - Double-sided Locandina poster Mike Malloy's EUROCRIME! tells the story of the violent Italian "poliziotteschi" cinematic movement of the 1970s which arose from Italy in the wake of the success of American crime films like DIRTY HARRY and THE GODFATHER. Hundreds of cheaply produced yet highly entertaining and fast paced films created a genre that found cult appeal in audiences outside of Italy. The rushed methods of production – stars performing their own risky stunts, the practice of "stealing shots" in public, filming without live sound – and with a dangerous bleed-over between real-life crime and movie crime, these movies offered a tough, gritty world, full of mustached, macho men killing each other brutally and racing their tiny cars down tiny alleyways. As this documentary demonstrates, the behind-the-scenes stories were no less colorful! Director: Mike Malloy Starring: Franco Nero, John Saxon, Henry Silva, Luc Merenda, Antonio Sabáto, Fred Williamson, Enzo Castellari, Joe Dallesandro, Leonard Mann Extras; - Trailer (5m) - YANKEE DOODLE TANZI (Outtakes on Ethnicity and Nationality) (4.5m) - HAIRY HUNCHBACKED TRASH: THE ITALIAN CRIME-COMEDY ROLES OF TOMAS MILIAN (15m) Format: DVD Genre: Documentary Package: Amaray Rating: MA15+ Audio: Dolby 2.0 Aspect: 16:9/4:3 Cat No: EX002 Runtime: 127 Release: 18.03.2015 Region: 4 Y.O.P.: 2012 PAL/NTSC: NTSC Language: English/Italian Subtitles: English Just one more time, Videovores: This is a PAL VHS release, so be sure you can play it, man! Both of these beautiful limited editions are available via EX-FILM'S official site, so groove on over already and get equipped with some of the most spectacular VHS releases to hit the fresh VHS sphere in recent memory. Your VCR will thank you, man.
Groove and Groove and Invest in an All-Region Player ASAP.
Josh Schafer
---