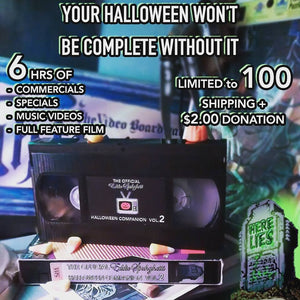 Halloween Starts Early with THE EDDIE SPUHGHETTI HALLOWEEN COMPANION VOL.2 VHS MIXTAPE! Read on for all the Details on How to Grab Your Slab! Limited to 100 Copies!
Is it Halloween yet, man?! Even though our calendar inconveniently reminds us it's only September 3rd, that rhetorical question is undoubtedly already bounding around the minds of horror fiends, Videovores and Autumnal enthusiasts everywhere. Yes, sadly, we still have just about another two whole months before the most wonderfully weird time of the year officially hits, but fear not, Tapeheads: rewind-inclined mixtape mastermind Eddie Spuhghetti is already prepared to help you start that radical stack of magnetic magic to ensure the grooviest Halloween of all-time. The second installment of his Halloween-themed mixtape aptly entitled The Eddie Spuhghetti Halloween Companion Vol 2. is now ready to roll into your VCR. All you gotta do is contact him via his site Here Lies and let him know you need it! Here's a look at the tape below…
.
Here is is, Tapeheads! Don't delay. This slab's too VHSweet to miss. Get it HERE.
The Eddie Spuhghetti Halloween Companion Vol. 2 comes packed with 6 full hours of commercials, bumpers, promos, special programs, music videos and one full-length feature all presented in the style of a late-night TV broadcast (including groovy commercial breaks within the full-length feature) all edited by Count Spuhghetti himself! Yeah, man… 6 HOURS!! You're gonna need a Jethro bowl of sweet treats to keep that insano sugar rush at its peak! Bring on the bodacious bellyaches! And here's the best part, Tapeheads. It's creepily cheap! That's right: just a two dollar donation (to help with the cost of materials) plus that actual cost of shipping and this slab o' scintillatingly spooky Halloween-centric nostalgia is headed straight to your door. This is an NTSC release, but it ships worldwide! You can place your order / get a shipping quote by contacting Eddie through his site Here Lies. This one's strictly limited to 100 copies, so what are you waiting for, Videovores?! Give Eddie a VHShout by clicking this here hot-hot-hot link, and grab your slab. This Halloween is gonna RULE.
Groove and Groove and Hang Loose with The Boob Tube.
Josh Schafer
---