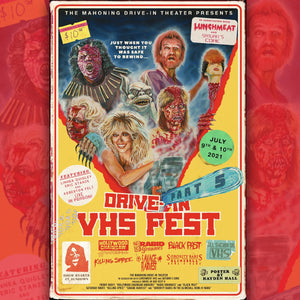 DRIVE-IN VHS FEST V is Alive! LUNCHMEAT Teams Up with Mahoning Drive-In and Saturn's Core to Present the Best VHS Party Ever.
By Josh Schafer 
Hey-yo, Tapeheads! We are absolutely VHStoked to unveil the fully fantastic DRIVE-IN VHS FEST V poster art from the amazingly radical hand of artist VHSupreme HAYDEN HALL! Yes, these posters will be available at the fest!
Wait.. What's DRIVE-IN VHS FEST? We're so glad you asked!
VHS FEST is the largest and most bodacious VHS event in the nation and guaranteed to give you the most rewind-radical weekend of your life! This will rule, Tapeheads! It's undoubtedly our favorite event of the year (and frankly of all-time) so DON'T MISS IT! Tickets are going fast, but still available at MahoningDIT.com (or just clickity-click the link below!)
We press play at Mahoning Drive-In Theater in Lehighton, PA on July 9th and 10th! 
CLICK THE LINK FOR TICKETS AND EVENT INFO:  https://mahoningdrivein.ticketleap.com/vhsfestv/
FULL DETAILS BELOW! 
The Mahoning Drive-in Theater joins forces with Lunchmeat & Saturn's Core for the premier VHS Event in the country: VHS-Fest V! 2 Days & Nights of Vendors, Music, Guests and Late Night VHSocializing (from a distance!)
Gates Open Early: 5pm
Films begin at Sundown.
Party till you have to press Stop.
Friday, July 9th:
HOLLYWOOD CHAINSAW HOOKERS (1988) *Linnea Quigley appearing Live!
RABID GRANNIES (1988) *Fully Uncut Version! Troma Team on-site Live!
‍
Saturday, July 10th:
KILLING SPREE (1987) *Star Asbestos Felt appearing Live!
SAVAGE HARVEST (1994) *Director Eric Stanze appearing Live!
SORORITY BABES IN THE SLIMEBALL BOWL-O-RAMA (1988) *Linnea Quigley appearing Live!
Beyond the 30+ vendors and other special guests, Lunchmeat & Saturn's Core will be welcoming Jackie Kelly (actress In Memory Of, Tennessee Gothic) & Jason Christ (writer / actor In Memory Of, Ratline, Savage Harvest 2) at their booth. 
We can't wait to get absolutely rewind radical with you, Tapeheads. We'll be there with all the LUNCHMEAT goodies, including out brand new issue of LUNCHMEAT MAGAZINE, and of course, and handful of VHSurprise releases! 
VHSee you at VHS FEST V, Videovores! REWIND OR DIE! 
---