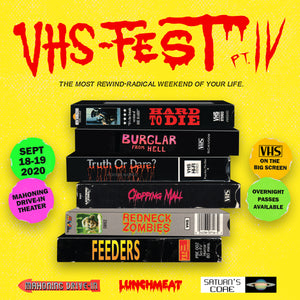 Drive-In VHS Fest IV Comes to Mahoning Drive-In Theater Sept 18-19th 2020! Tickets Now Available for the Premier Tapehead Celebration of the Year!
If you're looking for the most bodacious gathering of Tapeheads on the planet, you just hit pay dirt, dudes. Presented by LUNCHMEAT, SATURN'S CORE AUDIO & VIDEO, and THE MAHONING DRIVE-IN THEATER, we are totally VHStoked to offer two days and nights of ultimate VHS ecstasy, featuring six video era classics on the big screen projected from VHS, rewind-inclined vendors slingin' dope rarities and essential analog gems, and late night VHSocializing (from a safe distance, dudes!).  You in? Dig it. Tickets are available HERE.
We press play on September 18th and 19th at Mahoning Drive-In Theater in Lehighton, PA. Here are all the anti-digital details for the film lineup:
FRIDAY, SEPT 18th, 2020:
HARD TO DIE (1990) *w/ video intro from Jim Wynorski
BURGLAR FROM HELL (1993)
TRUTH OR DARE? A CRITICAL MADNESS (1986)
SATURDAY, SEPT 19th, 2020:
CHOPPING MALL (1986) *w/ video intro from Jim Wynorski
REDNECK ZOMBIES (1987) *w/ video intro from Lloyd Kaufman
FEEDERS (1996)
General admission tickets for VHS FEST IV are available for $10, and general admission with an overnight pass are available for $15! CHEAP! Vendor spots are available, but both vending spots and tickets are limited to ensure adequate spacing to keep everyone VHSafe! Please note that masks / face coverings are required and social distancing will be practiced.
Ticket purchases, more information and vendor applications are available on Mahoning Drive-In's site. Or just click HERE!
 We can't wait to celebrate the almighty tape and get totally rewind-radical with you, Tapeheads. This will RULE.
Groove and Groove and VHSocial Distancing Can Be Fun.
Josh Schafer
---