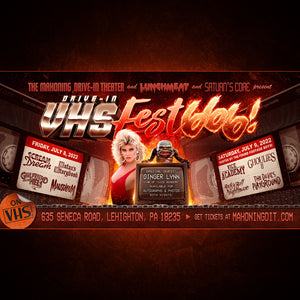 DRIVE-IN VHS FEST 666 Line-up and Details Unleashed! LUNCHMEAT Teams Up with MAHONING DRIVE-IN and SATURN'S CORE to Bring You One Hell of VHS Party on JULY 8th and 9th, 2022!
Hey-yo, Tapeheads! We're ready to unleash all the gory details for VHS FEST 6...66! That's right! It's gonna be one hell of a rewind-radical time! You can bet your VCR on that!
VHS FEST 666 presses play on JULY 8th and 9th, 2022 at MAHONING DRIVE-IN THEATER in Lehighton, PA! Gates open each day at 4pm (come early for some hellacious pre-fest fun!), explore the 40+ vendors, meet fellow Tapeheads and rewind-inclined peeps and LET'S PARTY! Movies begin at VHSundown!
TICKETS ARE NOW AVAILABLE FOR BOTH NIGHTS! Grab them HERE!
Read on for the full line-up and show details! We can't wait to raise some home video hell with you!
Get ready to clean your heads and jump in the rewinder: it's time for Drive-In VHS FEST 666, cueing up a stack of scorchingly sinister slabs of malevolent mayhem for your Drive-In damnation!

Once again we rev up for a radical rewind as Lunchmeat and Saturn's Core Audio & Video join forces with The Mahoning Drive-in Theater for the most VHxcellent weekend of helical scan sensations in the world, a gathering of Tapeheads and analog animals for two days of video store classics on the giant outdoor screen, played from vintage VHS tapes! Arrive early for a superstore of eclectic VHS, analog media and collectibles vendors, and GINGER LYNN in person, selling autographs and photos!

On Friday, July 8th we fire up the VCR and slip into a SCREAM DREAM (1989), wherein witchcraft wreaks bloody revenge upon raucous rollers and metal maniacs! 

Then we eject for intermission and pop in the satanically saucy GIRLFRIEND FROM HELL (1989), a high school lass who's filled with demonic sass!
While we rewind the tape, a short intermission will follow before we insert the night's third feature, a duo of deadtime tales to help ensure a restless sleep, SATAN'S STORYBOOK (1989), featuring our guest of honor, Ginger Lynn! 

The night concludes with a trip to the MAUSOLEUM (1983), a terrifying tape delving into the demented depths of demonic diddlery, resulting in rampant repulsive retribution!

Satanday night (July 9th) begins when we enroll you in the VICE ACADEMY (1989), going undercover with Ginger Lynn, to clean up the streets of L.A.! 

After a quick tape swap, prepare for a bash to the 4-head, as we ride the macabre merry-go-round of THE DEVIL'S PLAYGROUND (1989) for some deep-dish demonic delights!
With the next slab pulled from the stack, we continue with the comedic creepy crawly creature carnage of GHOULIES II (1987), wherein the demonic little louts let loose at a soon-to-be-filled-with-a-lot-less amusement park! 
As we give the racecar rewinder one last workout, our final flick of the night is the legendary Canadian heavy metal horror ROCK 'N' ROLL NIGHTMARE (1987), in which living He-Man rocker Jon Mikl Thor takes on the devil with the power of ROCK! 
As an extra-special treat, Saturday night's features will be hosted by those dark masters of ceremonies, Joe Pickett and Nick Prueher of The Found Footage Festival, presenting a diabolical deluge of satanic-themed video clips before each film!

It's a 2-day rental not to be missed!  Be kind and join your fellow videocassette cadets on a trip to hell and back on VHS, at the Drive-In.  No late fees, no membership required!
Until then, Tapeheads: keep feeding that VCR and remember to REWIND… OR DIE! GRAB YOUR TICKETS NOW! We can't wait to revel with you at the most bodacious rewind-inclined party in the world!  
---
2 comments