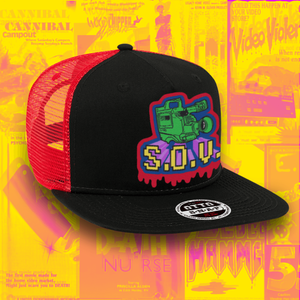 DEEP CUTS Offers Up Rewind-Inclined Gear Including a VHS Mixtape Shirt Where YOU Can Write In the Playlist!
With the ever-growing and expanding appreciation for VHS culture, there also comes a constant flow of VHS-driven goods and apparel generated by the collective creative force of Tapeheads. The crew at Media Crypt has been steady celebrating both essential and obscure video releasing companies of yore with their assortment of radical threads. Studiohouse Designs continues to make rewind waves with their line of VHS or Die stack shirts, and countless other analog-inclined entities steadily champion the rewind way via enamel pins, patches, and more.
And now, a new crew called Deep Cuts has entered the VHSphere with their own brand of wares paying homage to the VHS era. Read on, my fellow Videovores, get a look the new Deep Cuts gear, and learn why the glory days of VHS and video rental love still run hot in their blood…
Obsessssss muchhhh? Anyone who gets that reference... dig it.
LM: What was the inspiration to start up Deep Cuts?
Paul and Danielle: We've both been movie fanatics since childhood (horror films in particular). Between the both of us we own a lot of horror themed gear, with almost all of it representing films or characters from films that we love. After buying so much of that stuff over the years, we started looking around for something different. Something that really captured the spirit of our deep rooted love for horror movies, but at the same time, wasn't advertising any one film in particular. With my background as a designer working in television animation and my wife's background working in the fashion industry, we decided to put our strengths together and just make what we were looking for ourselves.
Write in your favorite rewind-driven playlist, Tapeheads! Grab it HERE.
You are hugely influenced by VHS. Can you tell us a little bit about the influence, and why you put such a focus on VHS with your gear?
The real driver for our first line, and really one of the biggest influences on our love for the genre, is our experiences growing up in the video store era. Those of us that were lucky enough to experience it first hand, really understand the almost magical experience that the walk down that horror aisle was. It was ALL about discovery. There would be a huge aisle just lined with these pieces of art all screaming and competing for your attention while daring you to watch something that your young mind might not be able to recover from. There was an absolute thrill to it, and it all started with that box art. You'd be thinking about it the whole time on your bike ride home, and when you finally settled in to watch the film, you've probably already made up a version of what it was going to be in your head. Often times the movies didn't live up, but those that did really knocked us on our asses. Those were the ones that really kept us coming back and forged the love. So when we started Deep Cuts it was really important for us to try to capture the spirit and fun of that discovery through our designs. They aren't derived from, or influenced by, any one film in particular but rather an entire experience.
VHSHRED TIL YOU'RE DEAD! PUMP IT.
What do you think is next for VHS? What's next for you guys?
Honestly, there seems to be more love for VHS now than ever before. Of course you could argue that the resurgence might be killing it for longtime collectors by driving prices up on even the common tapes, but we think it's awesome that more people are getting to experience a piece of that history that is so revered by those of us that have lived through it. There's a hunger for new generations to experience it first hand as evidenced by the popularity of the Slashback Video installation in Cali. That's pretty powerful considering that we live in a time where almost any film you could ever want to watch is a few clicks away. As for what's next for Deep Cuts, the support from the horror and tape community has been really great so far, so we are working on some new designs that are going to push that sense of discovery even further. Like the great S.O.V. titles that would grace the shelves sitting right along side the Elm street and Friday tapes, we hope Deep Cuts can capture a little piece of that magic when fans are looking to dive a little deeper.
Some shot-on-video love for your dome, dudes! They also have just the patch, so you can VHSew it to whatever you dig.
All of Deep Cuts' groovy gear is now available via this hot, hot, hot link! So groove on over, grab some threads and get totally VHStylin', dudes! Don't forget to tell 'em Lunchmeat sent ya!
Groove and Groove and I'm too sexy for my VHShirt.
Josh Schafer
---