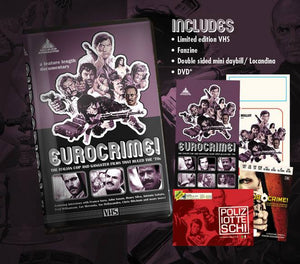 Celluloid Apocalypse Offers Mike Malloy Documentary EUROCRIME! on Limited Edition PAL VHS with a Load of Radical Extras!
Mike Malloy may already be a name that's flashed before your eyes for a number of reasons, including his writings on VHS collector label favorite Raedon Home Video, his continued work on the documentary PLASTIC MOVIES REWOUND which is endeavoring to define the complete history of the home video industry, or perhaps most recently, the release of his outstanding full-length documentary on the crime / gangster films that streaked across Europe during the 70s entitled EUROCRIME! THE ITALIAN COP AND GANGSTER FILMS THAT RULED THE 70's. Tapeheads should be tickled to learn that EUROCRIME! has just dropped on fresh VHS from the fine rewind-inclined folks at Australia-based label Celluloid Apocalypse who you may recognize for releasing fresh VHS for A GUN CALLED GEORGE and the fan-favorite post-apocalyptic romp MANBORG! You can groove on down get a gander at the EUROCRIME! VHS package just below…
The complete EUROCRIME! VHS package, now available from Celluloid Apocalypse! Dig on it.
This fresh VHS release of Mike Malloy's EUROCRIME! Is limited to just 100 copies, and comes with a slew of impressive extras. Just remember, Videovores: this bad boy is in PAL format, so make sure you're able to play it back! Read on below for the full description and details from the Official Celluloid Apocalypse site…
EUROCRIME! THE ITALIAN COP AND GANGSTER FILMS THAT RULED THE 70'S tells the story of the violent "poliziotteschi" cinematic movement of the 1970s which arose from Italy in the wake of the success of American crime films like DIRTY HARRY and THE GODFATHER. Hundreds of cheaply produced yet highly entertaining and fast paced films created a genre that found cult appeal in audiences outside of Italy. The rushed methods of production – stars performing their own risky stunts, the practice of "stealing shots" in public, filming without live sound – and with a dangerous bleed-over between real-life and on-screen crime, these movies offered a tough, gritty world of moustached, macho men killing each other brutally and racing their tiny cars down tiny alleyways…and as this documentary demonstrates, the behind-the-scenes stories were no less colourful! Includes interviews with Henry Silva, Fred Williamson, John Saxon, Luc Merenda, Antonio Sabato, Franco Nero, Christopher Mitchum, Enzo G. Castellari, Joe Dallesandro and many, many more. Available for the first time on stunning VHS, this release of Mike Malloy's fascinating documentary comes with a 48-page full colour fanzine featuring words by the director himself on the production of the film, an article on the Poliziotteschi oeuvre 's greatest director, Fernando Di Leo, by crime writer Andrew Nette (PulpCurry.com), and much more. The edition also comes with a double sided EUROCRIME! poster, designed by Matt O'Neill (It's Only A T-Shirt).
*NOTE: VHS & DVD package available. There is a $10 increase in the price* Sounds like quite the explosive analog package, Videovores. Here are a few exclusive words with the main brain behind the movie, director Mike Malloy, on the upcoming EUROCRIME! VHS release: "As someone who grew up getting his grubby hands on all the genre film tapes he could, I thought I had missed the boat on having my work as a filmmaker or actor appear on . But the Celluloid Apocalypse release of EUROCRIME! is now the second time my stuff has been released on tape, and the releases keep getting more deluxe, so I'm not sure all signs are pointing to 'dead format.'" We're not so sure, either, Mike! With all of the excitement that is continually happening around our favorite format, how could anyone possibly think it dead? Those who do, well, they just don't know, mang… They just don't know! The EUROCRIME! limited edition VHS is now available on the Celluloid Apocalypse site and is sure to sell out, so I would VHScoot on over and grab that slab before they is gone, dude. This release is lookin' too VHSexy so it just can't stick around for too long! And for all you fans of Australian analog excellence, they're also offering up some bitchin' Palace Explosice threads. You might wanna slip into one of those pronto.
Groove and Groove and Stay VHSmooth.
Josh Schafer
---