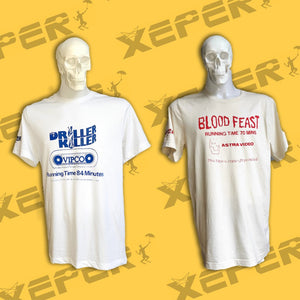 Celebrate VHS Obscenity with a New Line of Screen-Printed Video Nasty Shirts from Xeper Tees from the UK!
The UK Video Nasties are some of the most colorful, coveted and historically significant slabs of analog the rewind-inclined world has ever known. For those who are a little shaky on the history, here's a brief primer: the early 80s were a time of both abundant gore and reactionary conservatism. In the UK, this toxic combo manifested in the form of public moral outrage over the release of a handful of violent and bloody movies that managed to slide past the censors and onto home video. As public complaints continued to mount, Mary Whitehouse and the National Viewers' and Listeners' Association, a UK anti-obscenity pressure group, took up a campaign calling for the censorship of these films, and coined the now infamous "Video Nasty" classification in the process. In the end, 39 films were successfully prosecuted under the UK's Obscene Publications Act. Rather than disappearing under the weight of government censorship, however, these tapes have come to wear the Video Nasty label as a point of pride, and now, thanks to Xeper Tees, so can you!
Two of our favorites here in Lunchmeat Land. Just too groovy.
Xeper main brain and fellow Tapehead Dan Lake is paying some most excellent homage to these previously controversial chunks of home video with a new line of shirts featuring enhanced face label art from Video Nasty staples such as the schlock masterpiece Blood Feast (seen above), the cult classic Faces of Death, and the exploitation staple Cannibal Holocaust, just to name a few. Lake is still adding new designs to his Xeper store every week, and he plans to keep it up until he's through all 39 videos.
Two total Video Nasty classics ready to represent all up on your chest, Tapeheads!
While the subject matter alone would be enough to get us excited about these shirts, it's worth emphasizing that Dan has developed his designs with a sharp eye for detail, even going so far as to match the color of the shirts to the original box art, which makes for the argument that rocking one these bad boys might just be the next best thing to owning the original tapes!
CANNIBAL APOCALYPSE and BLOODY MOON are sure to up your rewind wardrobe, man. These are some VHSexy threads.
You can keep up with the latest designs on Xeper's Facebook page, or groove on over to their Official Webstore to pick yours up now! Xeper Tees, we here in Lunchmeat Land VHSalute you!
---