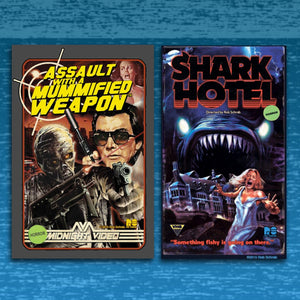 Gaze Upon the Glory of Cannibal Airlines and the VHS Fantasy Art of Rob Schrab!
If you were able to catch Dan Trachtenberg's tense horror / thriller, 10 Cloverfield Lane, then chances are you've been wondering about an intriguing slab of VHS Perfection that appeared during a montage scene called Cannibal Airlines. Your rewind-inclined mind may have asked, "Whoa, whoa, is that real?!" And then you probably thought, "That's gotta be too good to be true, right?..." But in your home video-lovin' heart, you had hope.
Get on our shelf, man! I wonder if Clu Gulager gets eaten. Nah... he'd make it.
Well, the bad news is, you were right. It's not a real flick. But rest assured, all is not lost. It turns out that there is a story behind that gorgeous piece of magnetic wish fulfillment. Slashfilm chronicled the history of how this fake movie ended up in 10 Cloverfield Lane, and you can read the full story here, but the gist of it is that Rob Schrab, director of Monster House and the upcoming Lego Movie sequel, designed the film as a joke and sent it to the guys over at Bad Robot Productions, just for kicks. They figured it was exactly the kind of movie you'd only end up watching if you were trapped in a bunker during the apocalypse (which is bullshit, because that movie would rule anytime!) and the rest, as they VHSay, is history.
The WIZARD VIGILANTE VHS cover from Rob Schrab which we featured on the Lunchmeat Instagram about a week back. Love that Wizard love!
As exemplified above with Wizard Vigilante, Cannibal Airlines isn't Schrab's only foray into the world of home video homage. There's even more, man! Groove on down and feast your eyes a couple more of his other radical rewind-inspired creations!
Two more rippin' pieces of mashed-up video cover homage from Rob Schrab! We'd rent these in a heartbeat, man.
You may not be able to feed Cannibal Airlines to your VCR anytime soon, but as a consolation for its sad non-existence on VHS, you can at least wear Schrab's Cannibal Airlines artwork on a t-shirt, along with all his other bitchin' video cover creations, all of which are available by clicking this link!
Can't put it on your shelf, but you can put it on your self! That tagline. Delicious.
Dig on those groovy faux-VHS threads, Tapeheads! You gotta love that graphic inspiration for SHARK HOUSE, too. Rob, you know what's good, dude. We here in Lunchmeat Land VHSalute you!
---